Clarence Hill
As the only Bermudian in history to ever win an Olympic medal, Clarence Hill is undisputedly one of our greatest athletes of any genre.
The medal came at the 1976 Olympics in Montreal where Mr. Hill competed in the heavyweight boxing division.
Born in Bermuda on June 26, 1951, he first started training at the Pembroke Youth Centre under Stanley Trimm, and later moved to training with Allan "Forty" Rego.
Through his bronze medal win, Mr. Hill gave Bermuda the impressive distinction of being the least populous and smallest nation to ever win a summer Olympic medal – something which still stands over 30 years later.
Mr. Hill won the first Olympic bout at only 2:41 into the second round via technical knockout when he bloodied Iran's Parviz Badpa's mouth and nose.
His last Olympic match was against Mircea Simon of Romania, which was to determine who would fight for the gold medal with the remaining fighter taking home the bronze. Simon went on to lose to eventual gold medalist Teófilo Stevenson of Cuba. In a lighter weight division, well known boxer Sugar Ray Leonard also won a boxing medal in these games.
Olympic Round Results
Defeated Parviz Badpa [Iran] Knockout
Defeated Rudy Gauwe [Belgium] Decision 5-0
Lost to Mircea Simon [Romania] Decision 0-5
Mr. Hill remained an amateur after the Olympics and was offered to be trained by George Francis in England, who commented that Hill "could become the hottest property in heavyweight boxing"
Unfortunately, Mr. Hill had been convicted of marijuana possession when he was 19 years old.  The press has reported that while he was in Britain training, an anonymous person sent a letter about his conviction to the British Boxing Board.
He contemplated fighting in the 1980 Olympics but as he had accepted money he was considered a pro, and unable to compete.
He went on to make his professional debut in April 1980 against David Fry in London, England, which Mr. Hill dominated with a first round knockout. He would go on to knock out his first nine opponents, with only two of the fights lasting longer than two rounds.
Mr. Hill has only been knocked out once in his professional career, by 6ft 5″ Walter Santemore in 1983. There were mitigating circumstances as Mr. Hill's mother had died recently, which obviously affected his focus. His professional record stands at an impressive 18* wins [13 via knockouts], three losses, and a draw.
Upon retiring from boxing Mr. Hill unfortunately battled drug addiction, and served time in prison before turning his life around.
Columnist Larry Burchall wrote a newspaper article about Mr. Hill in 1994, excerpt:
Twenty years ago as a fresh young Olympic bronze medal winning boxer Clarence Hill asked for government funding so that he could run a boxing program for young Bermudians.

Clarence was seeking about $10,000 per year. The UBP Government of the day refused to invest those dollars in young Bermudians.

Over the years Clarence's dream disappeared and Clarence changed and drifted into the world of drugs and crime. Once Clarence had fallen into crime the UBP government began to lavish money on him.

In 1996, when Clarence finally gets out of the brand new $40 million Westgate Correctional facility, successive UBP Goverments will have spent more than $250,000 on Clarence the lawbreaker.
In 2004 the Bermuda Sports Hall of Fame began, and the ten inductees did not include Mr. Hill. Many people had previously assumed that as the only Bermudian in history to medal at the Olympics, he was an automatic inclusion.
It was a point of great controversy when his name was excluded from the inductees, with many feeling it was due to his time spent incarcerated. The decision to exclude Mr. Hill was widely disapproved of amongst Bermudians. Fellow boxer Troy Darrell came out in support of Mr. Hill, and told the Royal Gazette "it was unfair to Clarence, he should've been automatically presented with that honour."
The following year Mr. Hill was inducted into the Hall of Fame, a richly deserved reward for a man who stands in history as our only Olympic medalist.
Still involved in the boxing scene, Mr. Hill can be seen in attendance at boxing matches held locally. He served as a referee for NABC & WIBC Middleweight World Champion Teresa Perozzi's 2007 fight against American Yvonne Reis. He is pictured below on the right alongside amateur fighter Stefan Dill at the Smashdown event held on July 24, 2010.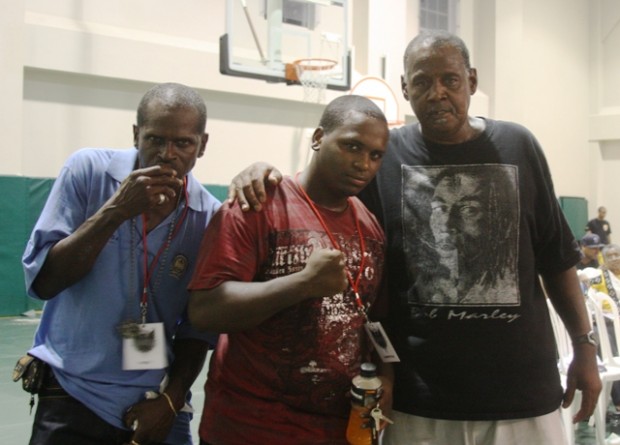 You can view Mr. Hill's full professional boxing record here
*Reports differ, some have Mr. Hill's record as 18 wins, some 16, some as high as 29