This morning the Premier Dr Ewart Brown talked up Bermuda and recent tourism events to an estimated several million listeners, when he was interviewed by Dan Taylor, host of one of New York's most popular radio shows on WCBS-FM.
This year, the Bermuda Department of Tourism's (BDOT) as part of its North American summer marketing strategy, has partnered with some of CBS Radio's best radio talent to promote Bermuda to some of the US's gateway cities, such as Philadelphia, Washington DC, New York and New Jersey. During the months of June and July, the popular hosts descended on the Island to air their shows live to their loyal listening audience.
Dan Taylor, who hosts 'Dan Taylor Mornings' on WCBS, is currently on Island this week conducting his radio show from the Fairmont Southampton. He is pictired below along with the Premier.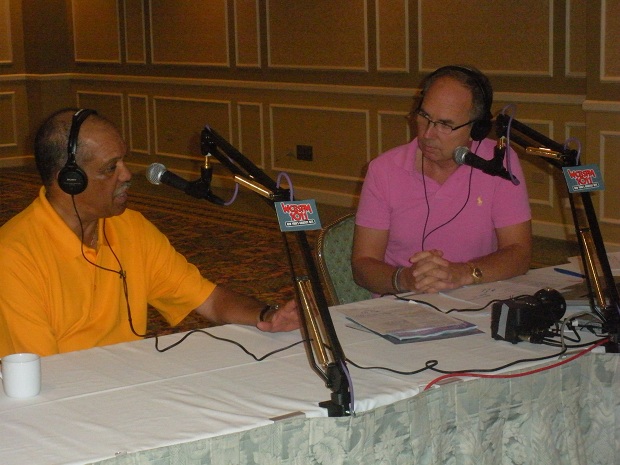 In addition to Mr Taylor, some of the other personalities included Cadillac Jack of 98.1 WOGL, former NFL quarterback Boomer Esiason, who did his New York radio show from Bermuda last week, and 1210AM's "Big Talker" Dom Giordano.
The joint venture showcases interviews with residents, including this morning's live chat with the Premier, who sat down with Mr Taylor to talk up some of the great activities and features that Bermuda has to offer.
Some of the topics discussed included the recently announced talent line up for the 2010 Bermuda Music Festival, the recently launched Endless Summer promotion which gives visitors value for money for the latter months of the summer, Bermuda's close proximity to major US East Coast cities, and the Island's charm, beauty and hospitable people.
According to the BDOT, the CBS Radio partnership has already generated buzz in the targeted markets and the ultimate goal is to drive immediate peak season bookings for the Island.
Read More About