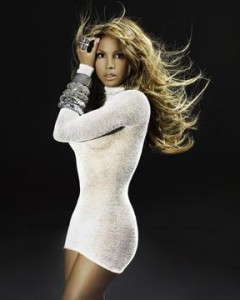 This evening the Premier, and Minister of Tourism and Transport, Dr Ewart Brown unveiled the local and overseas talent line up for the 2010 Bermuda Music Festival which includes Toni Braxton, Ziggy Marley, Angie Stone and Estelle.
Ziggy Marley, the son of legendary reggae musician Bob Marley, is a four time Grammy award winner with his most recent being in 2006 for the album Love Is My Religion. American R&B singer-songwriter Toni Braxton [pictured] has won six Grammy Awards in her career and has sold over 40 million records worldwide. Angie Stone is an American R&B and soul singer-songwriter, keyboardist, record producer, and occasional actress. British musician Estelle is an R&B singer-songwriter, rapper and record producer who won a Grammy Award for American Boy featuring Kanye West in the category for Best Rap/Sung Collaboration in 2009, and three consecutive 'Best Female Artist' trophies from the UK Hip-Hop Awards.
The Premier made the announcement in front of close to 400 industry partners at the Bermuda Department of Tourism's (BDOT) Industry Night event at the Fairmont Southampton. The Premier also said he wished to recognise the new producers of the Festival; Chip Quigley, President of Kingdom Entertainment Group and James [Jim] Kerwin, who is involved with Oxford Communications and Rock Media.
The Premier said:
Over the past 15 years the Bermuda Music Festival has evolved considerably. This year, we've modified it to provide a somewhat scaled down version. Rest assured though, we're not skimping on the caliber of talent.

I want to pause and take this opportunity to recognise the new producers of the Festival, entertainment extraordinaire Chip Quigley, President, of Kingdom Entertainment Group and James Kerwin, President of Oxford Communications. They will be overseeing the festival to ensure a quality event.

Ladies and gentlemen, tonight I am beyond thrilled to officially announce this year's line up for the 2010 Bermuda Music Festival.

The 15th Annual BMF will be held Thursday Sept. 30th, Friday Oct. 1st and Sat. October 2nd at the Fairmont Southampton.

On Thursday evening we'll welcome Grammy award winner and son of the legendary Bob Marley —- Ziggy Marley to the Fairmont Southampton Beach Club stage.

Ziggy's no stranger to Bermuda and his performances are inspiring and electric. Frankly I can't think of a better way to spend the evening than having the sand in your toes, while rocking to the tunes of this acclaimed reggae artist.

On Friday we'll welcome co-headliners… soulful songstress Angie Stone and hip-hop and R&B star Estelle.

Credited as being one of the originators of the neo-soul movement, Angie Stone has mapped a life-long musical journey that encompasses rap, hip-hop, R&B and jazz.

Meanwhile, London born, multi-talented Estelle, who burst on the scene a couple of years ago with her unique style that mixes rap, R&B and reggae, will round out our Thursday night line-up.

On Saturday night, we'll welcome an artist who's had an extensive career in the entertainment industry. R&B singer-songwriter Toni Braxton is sure to delight the crowd when she lights up the night on Saturday. This six-time Grammy award-winner has sold over 40 million records worldwide and we can't wait to see what she has in store for us on the final night of the BMF.

These extraordinary artists will be joined by our local talent Homegrown, McCartney K and Friends and the Chewstick Collective. Tickets for the Bermuda Music Festival go on sale Mon. July 26th at 9 a.m. online at bdatix.bm.

They can also be purchased from the iStore and at Fabulous Fashions at Heron Bay Plaza.
Read More About
Category: All, Entertainment, Music, News