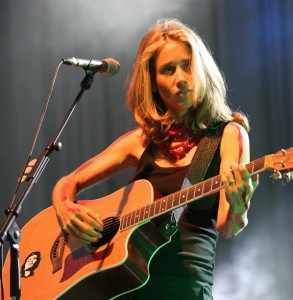 Internationally renowned Bermudian songbird Heather Nova sells out venues around the world and has helped to raise funds for any number of progressive global causes. But she says her upcoming Bermuda Festival appearance will be dedicated to a cause which is extremely close to home — the reduction of deadly gang violence in Bermuda.
The alternative/folk rocker, born Heather Frith, is donating her fee for a January 29 Bermuda Festival show at the Ruth Seaton James Centre to a Chewstick Foundation initiative aimed at reaching at-risk young people and prison inmates.
"I wanted to contribute in some way to the healing of our community here in Bermuda, which has been torn apart by gang violence so I decided to do a concert to raise both money and awareness for Chewstick's outreach programmes in the schools and prisons," she says in a letter to fans posted at her website.
"They encourage kids to express themselves through music, poetry and spoken word, thereby giving them a sense of self-esteem and empowerment. In their own words: 'Through youth programmes, artist development projects and community initiatives we are inspiring individuals and cultivating an integrated society. We change lives by inspiring people to live their dream. Our events create opportunities to bring our divided community together and help heal age old wounds by allowing people the opportunity to express and understand each other in an environment of peace. We conduct dynamic youth programmes at Berkeley Institute, Bermuda College and at the Co-Ed Facilty'."
Heather Nova said she will be inviting a Bermudian artists to participate in the Bermuda Festival event to showcase the talent which exists on the island and is finding its voice through Chewstick.
Established in 2002, Chewstick describes itself as a "Neo-Griot" movement inspired by the West African oral tradition. Combination troubadours, historians and musicians, griots celebrated their communities and cultures in storytelling, poetry and song. Through youth programs, artist development projects and community initiatives, Chewstick aims at "inspiring individuals and cultivating an integrated society."
Read More About
Category: All, Entertainment, Music, News