Bermudian singer Heather Nova will play a concert in Bermuda on September 30, saying she is excited to share her music "with the place that means most to me."
Ms Nova said, "I'm excited to return home to share my music with the place that means most to me. People always ask when I'm coming back to play here and it's been on the cards for a while, so its wonderful to finally have a date fixed. My musicians are always very excited to do a show here. They don't need much persuading."
Her breakout single 'Walk this World' was recently voted among the top 100 best alternative hits of the 90s by PopMatters. She shot to fame with that song and has been touring and recording ever since, with 9 studio albums and several live albums under her belt.
"She has collaborated with various artists from Bryan Adams to Swedish pop bands and electronic dance DJs, but for the most part has been committed to the writing and recording of her own albums, which have a distinct style and sound all her own."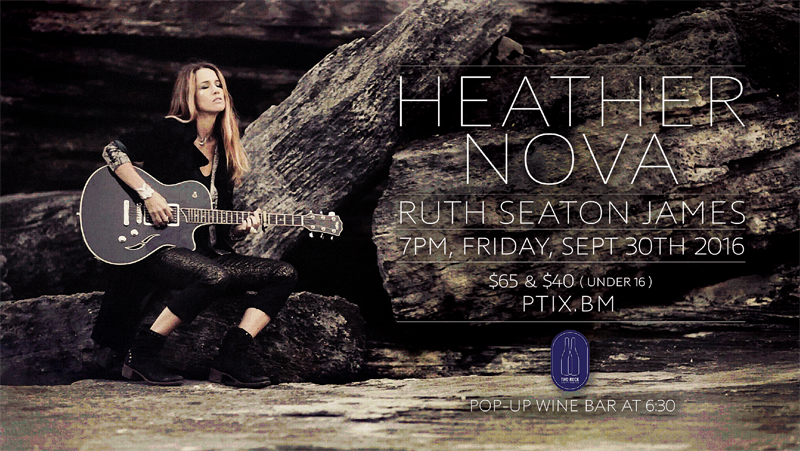 Renowned for her live performances, she has built a strong fan base and returns to Europe each year for sell-out tours. She also recently returned to the US after a 10 year absence and was met with an overwhelmingly warm welcome from fans who'd been waiting for years.
The singer said, "People were telling me such moving stories – how they got married to my songs, or went through cancer with my music as support. I even had a couple of women tell me they had given birth to my music.
"All very humbling. and a reminder of what a powerful force music can have in our lives. I love being a part of that, and that's how I feel about it – that I'm just a part of something much bigger. It's an exchange. That's what music's all about – connecting us emotionally so we feel less alone.
"When I got to the west coast there were people who had flown from New Zealand, Australia and even China to catch my show.
"People ask me what to expect from one of my concerts. I guess I would say that it's a time to just sit back and allow yourself to feel. Live music opens the heart. it gets to the core of you. it reminds you that you are alive in the most wonderful way. It allows you to feel things that have been long buried.
"I always strive to give my audience something special, and as this is home it means that much more to me. I'm very proud to be Bermudian and talk up the island everywhere I go."
Tickets cost $65 for adults and $40 for youth under 16 and are available online. From 6.30pm, there will be a pop-up wine bar available with specialty wines and champagnes from 2Rock Wines, with partial proceeds going to the Chewstick Foundation.

Read More About
Category: All, Entertainment, Music, News