Heather Nova
Heather Nova is a very accomplished singer-songwriter who has released seven full-length albums and has toured worldwide performing.
She has written and recorded over 100 songs, and has performed all over Europe, as well as the United States, Japan and Australia. Her songs have reached as high as #5 on the German music charts.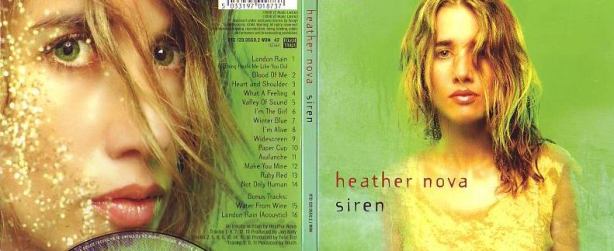 Signed to Sony Records, her music videos have been played on America's MTV2, Europe's MTV and Canada's MuchMusic, as well as various international radio stations. One of her songs was featured on the soundtrack of the John Cusack movie Serendipity.
Born Heather Allison Frith on July 6, 1967 in Bermuda, she started playing guitar and violin at an early age, writing her first song when she was 12.
She attended the Rhode Island School of Design (RISD), where she graduated with a degree in film studies. After graduating from RISD, Nova briefly relocated to New York City and then moved to London, England for twelve years
In 1990, she released her first recording, Heather Frith, an EP; she had not yet changed her name. She changed her name a year later, in an effort to create a name with more buzz.
The new name debuted in 1993 with her second EP Spirit in You and her first full album Glow Stars. Nova release her first live album Blow the same year, which she supported by a tour of Europe.
In 2002, she self-published The Sorrowjoy, a 72-page book of her poetry and drawings. In 2006 she released an album of the same name which featured Nova reading the poems from her book set to ambient music.
She lives in Bermuda with her husband, music producer Felix Tod, and their son Sebastian who was born in 2004.
Her musical releases include:
Albums
* Glow Stars (1993)
* Blow (live, 1993)
* Oyster (1994)
* Siren (1998)
* Wonderlust (live, 2000)
* South (2001)
* Storm (2003)
* Redbird (2005)
* The Sorrowjoy (2006)
* The Jasmine Flower (2008)
Singles
* "Walk This World" (1994)
* "Maybe An Angel" (1995)
* "Truth and Bone" (1996)
* "London Rain (Nothing Heals Me Like You Do)" (1998)
* "Heart & Shoulder" (1998)
* "I'm The Girl" (1999)
* "Gloomy Sunday" (1999)
* "Love Will Find You" (2000, with ATB)
* "Feel You Like A River" (2000, with ATB)
* "I'm No Angel" (2001, 2 parts)
* "Someone New" (2002, with Eskobar)
* "Virus of the Mind" (2002)
* "River of Life" (2003)
* "Welcome" (2005)
* "Renegade", "Made of Glass" (2007, with ATB)
EPs
* Heather Frith Ep (1990)
* Spirit In You (1993)
* Live From The Milky Way (1995)
* The First Recording (1997) Reissue of Heather Frith Ep
* Together As One (2005, a fundraiser for the Bermuda Sloop Foundation)
DVDs
* Live at the Union Chapel (2004)
The first two videos below are of official music videos from Sony/BMG, and the third one is Heather performing live.
-
-
-