Team Bermuda sprang into action on Thursday as the 2010 IODA World Sailing Championship began for 231 Optimist sailors from 55 countries in Langkawi, Malaysia.
After three races, 13 year old Makia Joell was the top Bermuda sailor after he impressed the international field with two top ten finishes out of the first three races for the regatta. Makai is pictured below racing in the 2010 PWC Bermuda National Championships.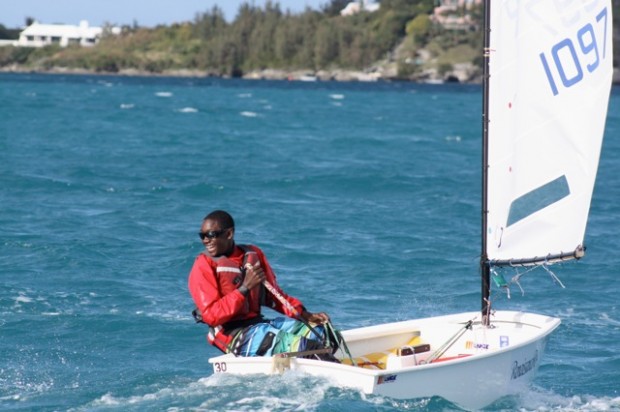 In the first race Makai rounded the windward mark in third, was fourth at the gate and eventually finished ninth. He sits in 28th place with finishes of 9, 26 and 8. Next in 98th place is Sam Stan but there appears to be a scoring error, which should be sorted out by the start of Day 2.
Sam officially has a DNF (Did not finish), 14 & 21. Ceci Wollmann is the next Bermudian in 135th place with results of 27, 63, 48. Antonio Bailey is in 143rd with scores of 43, 56 and 40 while Chase Cooper is in 165th with his 59, 43 and 49th place finishes. Ren Re Jr. Gold Cup visitors dominated the top twenty after Day 1 with the 2010 Champion Diogo Pereira from Portugal in 4th place, Odile Van Aanholt from Curacao in 6th, Usa's Chris Williford in 16th and Australia's Taylor Burn in 17th.
Team Leader Anthony Bailey reported, "The day started off with high anticipation of the first warning signal. The wind at the dock was blowing 5 to 7 knots and the team appeared ready for the task at hand. Coach Zizi Staniul had given the sailors their last pRep talk and it was now all up to them to put into action the past four days of training." The fleet is spit into 6 colour-coded divisions who rotate racing each other in 8o boat flights according to a predetermined plan. Officials must complete 3 flights to establish one complete race for scoring. Bailey said, "the wind was blowing 6 to 8 knots with a slight current of 4 meters per minute flowing in the same direction as the wind, and the wind was very shifty. "
Coach Zizi felt that Day 1 offered, "less than perfect sailing conditions as the wind dropped as low as 2 knots in the second and third race however everyone had to race in these conditions. I would like to see our sailors improve on their starts. However, this is only day one of the regatta and the team must maintain their focus and put in the same effort each day as a regatta can not be won on the first day but it can be lost if the level of focus is not maintained."
More details and complete results are available on the Bermuda Team Blog.
Read More About