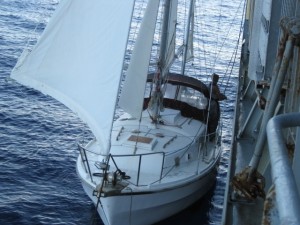 A US Coast Guard aircraft re-commenced its search for a yacht crewed by two Bermudian men this morning (Dec. 24) — but so far has not turned up any trace of the missing vessel.
"Carefree IV" has not been seen since December 18. The 31-foot yacht left the Dominican Republic on December 1 and had been due to arrive in Bermuda yesterday. But it has not been heard from since Saturday when the vessel took on emergency supplies of food and water from a passing merchant ship.
A US Coast Guard aircraft stationed in North Carolina spent five hours yesterday criss-crossing a 10,000-mile area of the Atlantic some 200 miles southwest of Bermuda but was unable to locate the yacht. The C-130 aircraft resumed its search at 9.30 am Bermuda time this morning.
Yesterday US Coast Guard officials said:  "The missing sailors were transiting from the Dominican Republic to Bermuda when they contacted Rescue Co-ordination Center Bermuda requesting assistance because they had run out of food, water and gasoline.
"On Wednesday, RCC Bermuda diverted a merchant vessel whose crew was able to supply the two sailors with 60 gallons of water and enough food for 7 to 10 days. They were unable to provide any gasoline but the crew of the merchant vessel noted that the sails, although in poor condition, were usable. After the merchant vessel left the scene the RCC lost all communication with the two sailors."
"Citing several reasons for concern including the condition of the sailing vessel, the apparent lack of experience of the crew and their lack of an Emergency Position Indicating Radio Beacon, RCC Bermuda asked the Coast Guard to assist in relocating the vessel."
"At approximately 6:30 a.m., the Coast Guard launched a C-130 rescue crew from Air Station Elizabeth City, North Carolina., in support of the search efforts.At approximately 8:30 a.m. the C-130 crew arrived on scene and began their search.
"The vessel is described as a UK registered, 31-foot ketch sailing vessel with a white hull and a maroon dodger covering the cockpit. The RCC and Coast Guard are asking anyone with information on the sailing vessel to make reports to RCC Bermuda at 1-441-297-1010 or RCC Norfolk, Va., at 757-398-6390."
Update 1:30pm: Official statement from Bermuda Radio "RCC Bermuda continued its search today for sailing vessel 'Carefree IV'. At 7 a.m. a U.S. Coastguard C-130 aircraft commenced a second search covering an area of 19,000 square miles to the East and Southeast of Bermuda. There were still no sightings by the search aircraft or merchant vessels transiting the area with the search aircraft returning to Elizabeth City shortly after noon today. RCC Bermuda has been in contact with authorities in the Dominican Republic who are carrying out port checks to see if the vessel may have returned south and continue with Urgent Marine Information Broadcasts to vessels transiting the area South and East of Bermuda. The search by air has been suspended pending new information while merchant vessels transiting the area continue to keep a sharp lookout."
Read More About