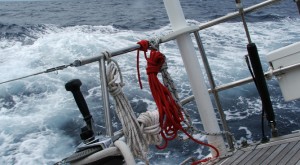 The eighth biennial Charleston to Bermuda race is set to begin May 21 and as many yachts have already registered to be on the starting line as the entire 2009 field.
The  777-mile race from Charleston Harbour to Hamilton, Bermuda is being staged by the Royal Bermuda Yacht Club and the South Carolina Maritime Foundation in partnership with the sailing company OnDeck US.
Boats at least 30 feet in length can compete in five separate divisions: racing, cruising — spinnaker, cruising — non-spinnaker, double-handed or multi-hull.
The race was conceived by two South Carolina sailors in 1997. In  previous runnings, between six and 20 sailboats have raced. In 2009, the economic downturn resulted in a small field of  just six boats and light winds forced race officials to let yachts use their motors on the final stretch to Bermuda. For further information or to register please visit
charlestonbermudarace.com
.
Read More About