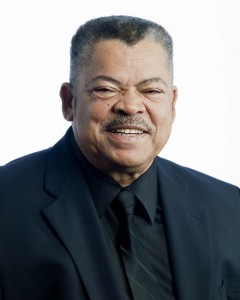 "Bermuda's Natural Resource" Gene Steede will be roasted and toasted at a Fairmont Southampton gala tonight [Jan. 23].
MULTI Entertainment Organisation will honour the veteran Bermuda entertainment trailblazer at an event featuring appearances by Bootsie, Bruce Barritt, June Caisey, Ronnie Lopes, Shine Hayward, Dale Butler, Gita Blakeney-Saltus, Gina Spence-Farmer, Ron Lightbourne and others.
The roast, taking place at the Fairmont Southampton Amphitheater,  commences at 7 pm, with a dinner which will feature live performances by such Bermudian acts as Nadanja Bailey, Bermuda Triangle Band, Kion Simmons, Cindy Smith, Sia Spence and Gita Blakeney Saltus.
Once the dinner show has concluded, a panel of entertainers, both past and present, will honour and "roast" Mr. Steede in comedic style. Jah Simmons will serve as "Roast Master" for the event.
"The highlight of the night will see Mr. Gene Steede himself get a chance to roast the panel, and cap the night off with a performance piece of his own," said a MULTI Entertainment spokesman. "This event is of great importance, as it appreciates a pioneer and icon in Bermudian entertainment.
"We hope this event rekindles the desire for local entertainment and production; which is the basis of our organisation's formation."
Appointed a Member of the British Empire in the Queen's New Year Honours List, Mr. Steede has been active on the Bermudian entertainment scene since the 1950s. Postponed from earlier this month, proceeds from tonight's roast will will go towards medical expenses Mr. Steede incurred as a result of recent heart surgery and also to the MULTI-Image Scholarship Fund being established for young Bermudians who want to enter the entertainment field.
Read More About
Category: All, Entertainment, Music