A glimpse of Bermuda at the dawn of the modern tourism age has been preserved by a Canadian film archive.
Scenes of Hamilton, the South Shore beaches and various other Bermuda locations are featured in the historic footage, recently posted on-line by Nova Scotia's provincial government archive.
The film is believed to have been shot by Allen Fraser, a Boer War and First World War veteran who was a photographer for the "Halifax Mail" and a Nova Scotian documentarian from the 1920s to the 1940s.
Mr. Fraser visited Bermuda numerous times during the 1920s and '30s when the island was beginning to market itself as a luxury resort, constructing a modern tourism infrastructure of hotels, shops and golf courses around its existing amenities.
Following a post-World War One economic slump and the lingering death of the island's small-scale agricultural industry after the imposition of U.S. tariffs, the Trade Development Board had embarked on a wholesale effort to develop tourism as the island's economic mainstay.
"The new masters of Bermuda tourism instinctively knew that they could not forsake the aesthetic that had [first] made their island attractive in North American eyes," said Canadian historian Duncan McDowell in his book "Another World: Bermuda & The Rise of Modern Tourism. "Their thinking was conditioned by the reality of Bermuda's postage-stamp size – 21 square miles – and the realisation that large-scale tourism in the colony could never be cordoned off from the rest of its society.
"From the outset, therefore, the Trade Development Board [predecessor to today's Tourism Department] determined to make the industry and the society that supported it conform to the aesthetic.
Bermuda Visitors, Mid or Late 1920s, In Wickerwork Pedal Chair Cab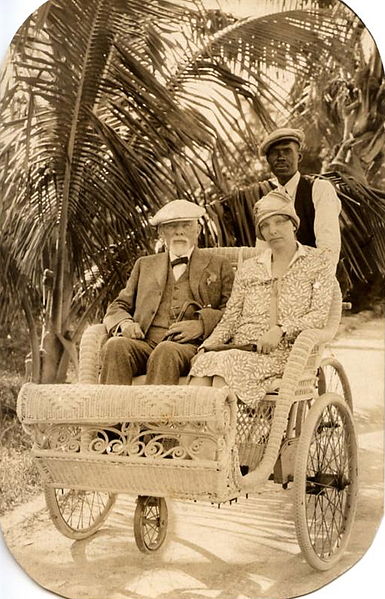 "Bermuda would not be like West Palm Beach; it would not be an artificially created community, cut out of virgin land and sealed from the society surrounding it. Nor would it be a Niagara Falls, an island of aesthetic aberration that bore no relation to the society around it.
"Instead, Bermuda would fuse genuine elements of its aesthetic into the living fabric of the society It would shape and preserve the colony's society and landscape to oblige the sensibilities of its most promising tourist market — wealthy, East Coast North Americans. The goal was a reciprocity in which Bermudians groomed their island paradise to satisfy outsiders' expectations while outsiders played their part by comporting themselves according to the colony's aesthetic. Those who did not conform to this pattern were not welcome. Bermuda wanted 'visitors,' not 'tourists'."
The controversial compulsory acquisition of Tucker's Town as an enclave for well-heeled visitors and the construction of the Bermuda Railway were both centrepieces of Trade Development Board efforts to enhance tourism after luxury liners and flying boats began to call here in the inter-war period (1919-1939).
Read More About