A tired but cheerful Stephen Colbert was glad to be back on dry land this morning [May 28] after almost windless conditions virtually becalmed the Charleston Bermuda fleet and dragged the conclusion of the biennial race out by several days.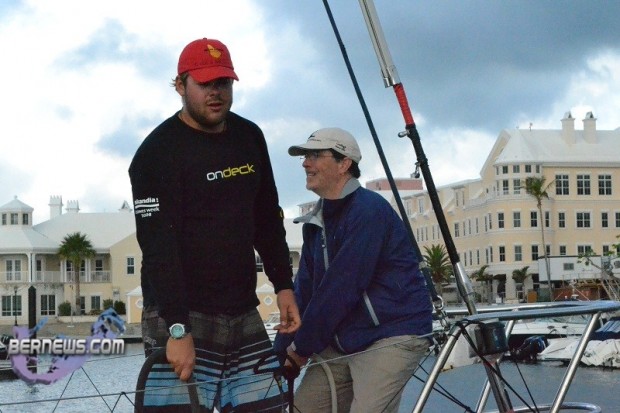 Mr. Colbert arrived at the Royal Bermuda Yacht Club aboard "Spirit of Juno" earlier this morning after crossing the East End finish line at approximately 5 am and anchoring in St. George's Harbour until sunrise. The comedian — who proclaimed himself "the world's greatest sailor" in the May issue of "Sailing" magazine — had to settle for second place, crossing the finish line more than eight hours behind race rival "Tucana."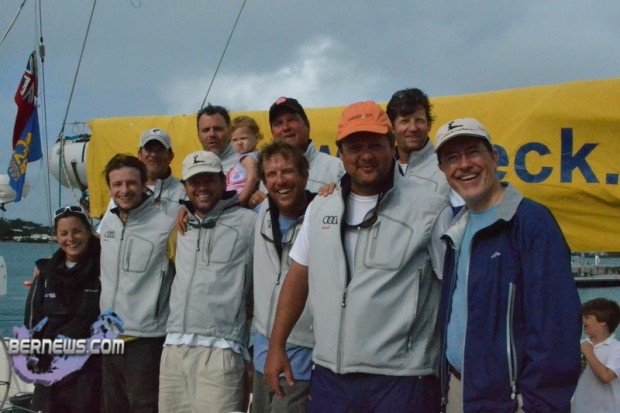 Meanwhile, the next boat expected to arrive under sail is Noel Sterrett's J/130 "Solarus", sailing in the Doublehanded Division with Matt Henderson as crew.
As of the 8:00 a.m. position update, the duo was just 44 miles from the finish, sailing at a respectable speed of 6.2 knots. They'll need to tap every ounce of speed they can out of this ride if they intend to beat David Skidmore's "Eagles' Wings" (the other boat racing in this division).
Mr. Skidmore's boat is owed over 38 hours of time by "Solarus" with the handicap ratings factored in. Mr. Skidmore and his crew Barry Ling were roughly 100 miles astern of "Solarus", sailing at six knots at 7:00 a.m.
And then there are the two Cruising Division boats: Rob Turkewitz's "First Light" and Bernie Schapiro's "Pied-a-Mer". As of 7:00 a.m., both boats were over 100 miles out, just south of the rhumbline. There's a strong chance both can finish the race by early tomorrow.
Mr. Colbert has sent emails every day to the race committee, demonstrating he had definitely kept his sense of humor during the sometimes frustrating event.
Here are excerpts from two of them:
Mr. Colbert on Sunday, May 22:
"Dear land-based life forms. Fantastic day. We started with windless bobbing from 4:00 a.m. until 8:00 a.m. We punctuated this inertia by catching, on a hand line, two mahi-mahi, a very beautiful fish-fish! They both were laid to rest in a small Tupperware coffin surrounded by lime juice and chopped onions.
"Spent the afternoon dodging wind holes and watching dolphins play in our bow wake. We've also been introducing our English crew to the joys of grits. They are dubious, but too polite to admit they tossed it overboard.
"We are on four hour watches and lucky to get three hours' sleep at a time. Those of you familiar with totalitarian regimes will remember that sleep deprivation is one way that dictators break their enemies.
"We are in good position thanks to our skipper, Tim Scarisbrick, first mate Bertie Whitley and second mate Chris Miller.
"We all smell wonderful.  See you in Bermuda!"
And Mr. Colbert sent the following on Wednesday May 25:
"180 miles off Bermuda. First of all, would someone please call the Hamilton Fairmont and cancel Stephen's massage for tomorrow morning?  Thanks a bunch.
"In the last 48 hours, we´ve seen sperm whales breaching, a family of dolphins playing in our bow wake, devil rays, and man o'war. Now we are alone. A speck of white moving over and under fields of endless blue. Winds are light and variable. We have put up our Audi spinnaker (which is roughly the size of Denmark), and we crawl toward glory at the blistering pace of four knots. And by blistering, we mean what's happening to our skin in the merciless rays of the sun.
"In these conditions, it is more important than ever to keep up your fluid intake, or else suffer the serious effects of dehydration: fatigue, dizziness, and hallucinations. Thankfully, so far…Spiders! Spiders everywhere! They're coming out of the sails! Kill them with fire!
Love,
The "Spirit of Juno"
p.s. Did that Rapture thing happen last Saturday? You know what, don't tell us. We've got it TiVOed."
Read More About