The outcome of the 777-mile Charleston Bermuda contest came right down to the wire — but in the end self-proclaimed "world's greatest sailor" Stephen Colbert had to settle for second place.
Yesterday evening [May 27] "Tucana" crossed the finish line just east of St. Georges Channel  at 8:46:12 p.m. Bermuda time, and came into Hamilton at about 11:30pm. Mr. Colbert's "Spirit of Juno" was roughly 25 miles behind her and arrived here this morning.
Comedian Mr. Colbert and his crewmates on board "Spirit of Juno" spent most of the last six days sailing neck and neck with their closet rival, "Tucana".  But during the final 10 hours of action, the victory slipped from their grasp. It was a case of too little too late as the host of Comedy Central's "Colbert Report" and his fellow crew couldn't muster enough speed to catch "Tucana" [pictured arriving in Bermuda below].
The Charleston-based crew on board the Shipman 63 "Tucana" distanced themselves from the other competitors by diligently pursuing a more southerly route.
Despite their joy about finishing first overall in the race and taking Line Honors [pictured below], the crew of "Tucana' weren't able to relax until they learned the finish time of the "Spirit of Juno". With the respective handicap ratings factored in, "Tucana" owed "Juno" roughly 4.5 hours on this course – and that differential would determine the final standings.
Unfortunately for Mr. Colbert, the winds moderated after sunset, and the "Spirit of Juno" wasn't able to maintain sufficient speed to arrive at the line in time for the handicapping to bump the boat into first place.
She finished at approximately 5:00 a.m. Bermuda time today [May 28].
"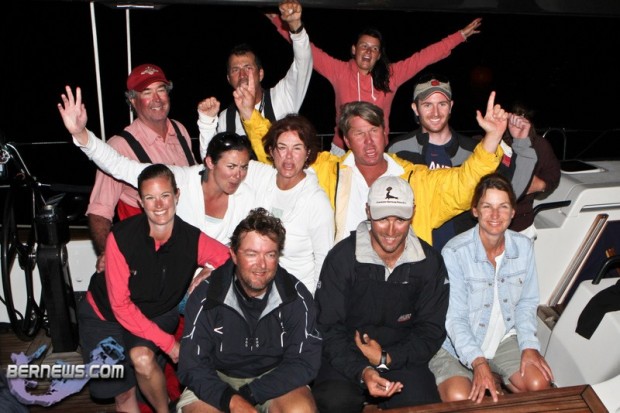 The crew on board "Spirit of Juno" spent their initial hours on Bermuda in St. Georges Harbor, awaiting daylight. They then proceeded to motor to Hamilton Harbour and the Royal Bermuda Yacht Club
Because of almost windless conditions west of Bermuda, five yachts retired, and started travelling under engine power to the island. One-time favourite Vladimir Zinchenko's Shipman 63 "Yanosha" is among the boats which has retired.
Stephen Colbert and his crew on the "Spirit of Juno", had been leading the fleet earlier this week before the winds diminished.
Read More About