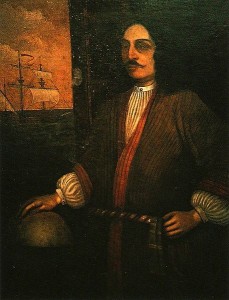 Plans to honour Bermuda's founding father in his English birthplace have been put on hold due to lack of funds.
The English coastal town of Lyme Regis in conjunction with St. George's — its Bermuda twin town — had announced plans to commission and erect a £35,000 bronze statue of Admiral Sir George Somers.
Sir George, a former mayor of Lyme Regis, was shipwrecked in Bermuda on his way to feed the starving settlers of Jamestown, Virginia in 1609. The story of the "Sea Venture" castaways — who eventually reached Virginia in two ships they built in Bermuda — helped to inspire William Shakespeare's play "The Tempest."
The statue project was unveiled during the 2009 400th anniversary celebrations marking the wreck of Sir George's ship "Sea Venture" in Bermuda and the island's subsequent settlement.
But a Lyme Regis newspaper reports today [May 20] that  because of the difficulty of finding the necessary funding during the current financial climate, the project would have to go on the back burner.
The chairman of the Lyme Regis-St George's Twinning Association described this as "a shame" and the committee would have to decide whether to continue with the project in the future.
Treasurer John Piper reported that the statue fund stood at £2,778. Mr Piper also reported a profit on the year of £553.12, resulting in a bank balance of £2,528.01 in addition to the funds earmarked for the statue.
A further £1.860 remained in another account for a possible youth trip to Bermuda in the future.
Read More About