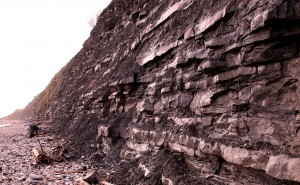 A Bermuda teenager attending boarding school in the UK sustained a serious head injury after falling on rocks near the coastal town of Lyme Regis and rescuers battled to get her airlifted from the scene before the rising tide reached her.
Authorities told a Lyme Regis newspaper the 15-year-old girl — who has not been named — was lucky not to have been knocked unconscious from the "deep" head wound. She fell on rocks beneath Church Cliffs [pictured], to the east of the town, while attempting to avoid the incoming tide on Sunday [Feb. 27] afternoon.
The girl was on a day trip to Lyme Regis – birthplace of the "Sea Venture's" Admiral Sir George Somers and officially designated the twin town of  St. George's in 1996 – with students from Millfield School in Somerset where she is a pupil.
"Initially we thought she had fallen off the top of the wall but fortunately she hadn't," said one of the lifeboat team who rescued the girl. "… The injury was to the front of her head, about an inch above her left eye, quite a nasty deep wound.  She was conscious throughout and she said she felt a bit dizzy."
The teenager had apparently fallen over and her rucksack had added to her weight as she toppled over. A Royal Air Force helicopter was deployed because it was a serious head injury and the girl was a minor.
The coastguards cleared the site and she was flown to the landing site at Dorchester Rugby Club. She was then taken to Dorset County Hospital by ambulance where she is recovering.
Read More About