After four consecutive years of the game ending in a draw, a Cup Match winner has been declared, with St George's winning the 2011 Cup Match Classic today [July 29] at the Wellington Oval in St George's.
After a thrilling afternoon of cricket, St. George's Cricket Club pressed home their advantage after dominating the first day's play to thrill fans of the blue and blue and win the coveted Cup Match trophy. St George's Captain Oronde Bascome is pictured below holding the trophy, in a photo courtesy of Earl Basden.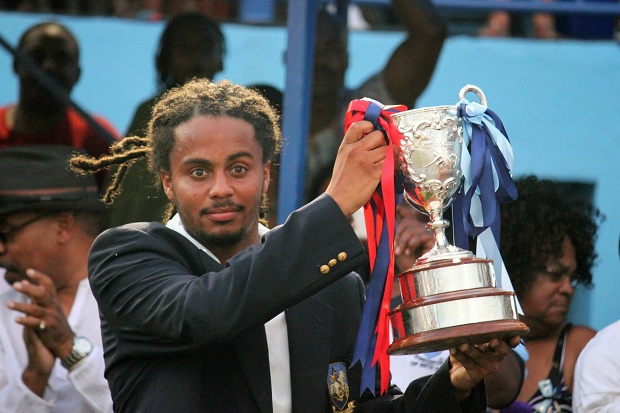 The game came down to a nail biting end which saw wickets fall fast, followed by a fast push by St George's, with Lionel Cann hitting his trademark sixes to keep the Cup in the east. Mr Cann is pictured below after hitting his last 6 – which won the game: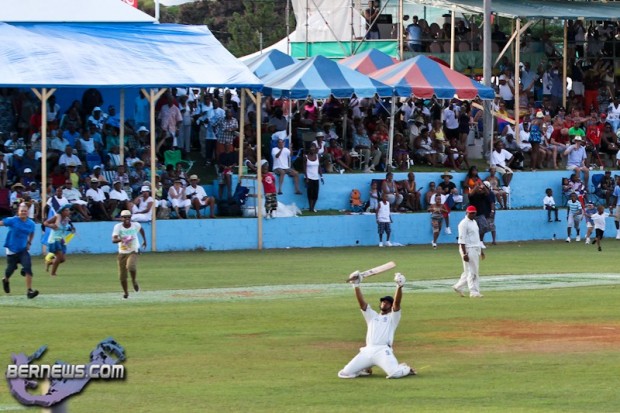 The 2011 St. George's Cup Match Team was Oronde Bascome [Captain], Rodney Trott [Vice Captain], Jason Anderson, OJ Pitcher, Lionel Cann, Delyone Borden, Stefan Kelly, Damali Bell, Fiqre Crockwell, Justin Pitcher and Allan Douglas Jr., with reserves Onias Bascome, Lateef Trott and Shea Pitcher.
Somerset Cricket Club was represented by Jekon Edness [Captain], Stephen Outerbridge [Vice Captain], Dion Stovell, Terryn Fray, Janeiro Tucker, Deunte Darrell, Malachi Jones, Joshua Gilbert, Kamau Leverock, Kevin Hurdle and Jacobi Robinson.
Teenage Kamau Leverock, the nephew of cricketing great Dwayne "Sluggo" Leverock, was the top scorer for Somerset today with 43, while Fiqre Crockwell got 54 for St George's. Lionel Cann, who has represented St George's since 1993, ended the day on 49 not out.
Somerset Cricket Club 2nd Innings
..01 (04) Dion Stovell b Stefan Kelly
..33 (40) Terry Fray c Allan Douglas Jr b Rodney Trott
..30 (96) Stephen Outerbridge Run Out
..01 (03) Deunte Darrell LBW Stefan Kelly
..24 (30) Janeiro Tucker LBW Oronde Bascome
..19 (42) Jekon Edness LBW Stefan Kelly
..43 (63) Kamau Leverock c Fiqre Crockwell b Stefan Kelly
..14 (23) Malachi Jones b Stefan Kelly
..02 (06) Jacobi Robinson b Stefan Kelly
..27 (35) Kevin Hurdle Not Out
..21 (47) Joshua Gilbert c Rodney Trott b Delyone Borden
..23 Extras (18b-4lb-1nb)
238 Total All Out
St. George's Cricket Club Bowlers
2.0-0-13-0 Justin Pitcher
24.-3-73-6 Stefan Kelly
6.0-1-19-0 OJ Pitcher
14.-3-42-1 Rodney Trott
6.2-1-28-1 Delyone Borden
2.0-0-13-0 Damali Bell
10.-0-28-1 Oronde Bascome
St. George's Cricket Club 2nd Innings
..00 (09) Jason Anderson c Terryn Fray b Kamau Leverock
..54 (78) Fiqre Crockwell c Terryn Fray b Joshua Gilbert
..17 (47) Oronde Bascome st Jekon Edness b Joshua Gilbert
..02 (06) OJ Pitcher c Jekon Edness b Joshua Gilbert
..04 (03) Allan Douglas Jr c Jekon Edness b Joshua Gilbert
..00 (09) Rodney Trott c Kevin Hurdle b Joshua Gilbert
..49 (42) Lionel Cann Not Out
..02 (20) Delyone Borden LBW Malachi Jones
..10 (11) Justin Pitcher c Dion Stovell b Kevin Hurdle
..01 (10) Stefan Kelly Not Out
..09 Extras (4b-1w-4lb)
148 Total for 8 Wickets after 37.2 overs
Somerset Cricket Club Bowlers
8.2-1-34-1 Malachi Jones
3.0-0-15-1 Kamau Leverock
4.0-0-23-0 Jacobi Robinson
11.-3-25-1 Kevin Hurdle
3.0-0-13-0 Janeiro tucker
8.0-3-30-5 Joshua Gilbert
..09 Extras (4b-1w-4lb)
148 Total for 8 Wickets
Read More About