Selectors at the Somerset Cricket Club and St. George's Cricket Club met tonight [July 28] to decide who will represent their respective clubs at the upcoming 116th Annual Cup Match Classic and both clubs have now announced their teams.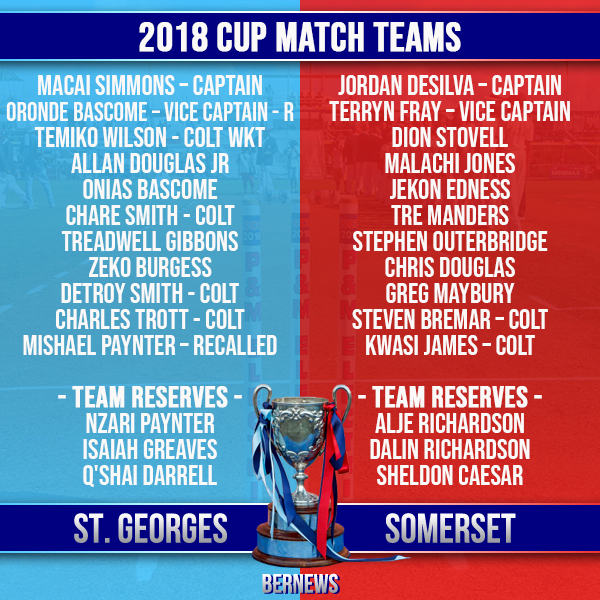 Defending Cup Match champions Somerset Cricket Club made two changes to their team adding two colts. Cleveland County captain Steven Bremar was selected as was former Somerset Cricket Club league player Kwasi James. Terryn Fray will be the vice captain for Somerset.
Challengers St. George's Cricket Club have made several changes to their 2018 Cup Match team adding four colts and recalling two players. Temiko Wilson, Chare Smith, Detroy Smith and Charles Trott will all make their debuts while former captain Oronde Bascome has been recalled and will serve as vice captain. Mishael Paynter has also been recalled.
Somerset Cricket Club Team:
Jordan DeSilva – Captain
Terryn Fray – Vice Captain
Dion Stovell
Malachi Jones
Jekon Edness
Tre Manders
Stephen Outerbridge
Chris Douglas
Greg Maybury
Steven Bremar – Colt
Kwasi James – Colt
Reserves:
Alje Richardson
Dalin Richardson
Sheldon Caesar
St. George's Cricket Club Team:
Macai Simmons – Captain
Oronde Bascome – Vice Captain – Recalled
Temiko Wilson – Colt Wkt
Allan Douglas Jr
Onias Bascome
Chare Smith – Colt
Treadwell Gibbons
Zeko Burgess
Detroy Smith – Colt
Charles Trott – Colt
Mishael Paynter – Recalled
Reserves:
Nzari Paynter
Isaiah Greaves
Q'Shai Darrell

Read More About