[Updated with video] 17 year old basketball star Yusef Te'Jour Riley has been awarded a $20,000 scholarship by Digicel to continue his studies at McGill University in Montreal, Quebec.
Mr. Riley aspires to be a lawyer and will pursue a double major in Political Science and English at the prestigious university while competing in basketball. He received the Political Science Award when he graduated with honors from the Metropolitan Preparatory Academy this spring.
Digicel said his exemplary academic achievements, combined with his outstanding performance as the point guard and shooting guard on the Under 18 National Bermuda Basketball team, made him an ideal candidate for the scholarship.
Digicel Bermuda CEO, Wayne Caines [pictured below with Te'Jour] stated, "Te'Jour stood out to us for many reasons. He is an extraordinary athlete, he excels in academics, he is hardworking and he is committed. This is the kind of positivity that we wish to promote in Bermuda."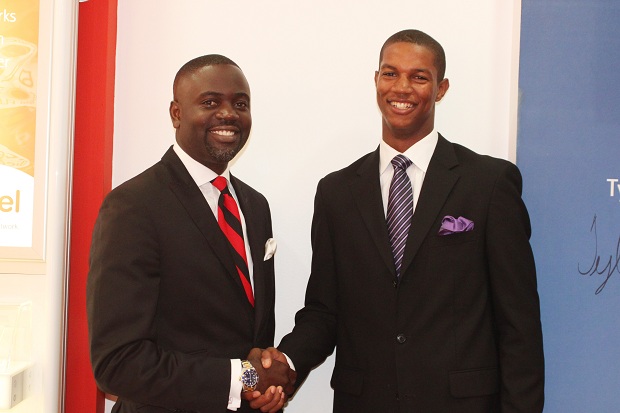 "The Digicel Scholarship for Sport aims to benefit Bermuda in the international sporting arena by enabling young Bermudian athletes to receive world class training. We hope Te'Jour will take his basketball skills to the next level as he continues to excel academically. We wish him all the best in his future endeavors."
Mr. Riley stated, "I am looking forward to furthering my skills and putting Bermuda on the map. I am totally indebted to Digicel for how they have benefitted me and my family with this scholarship."
Read More About