[Updating - scroll to bottom for latest]
This morning [Aug.18] Bermuda commuters are dealing with buses being off the road, following a strike by bus operators which was called late yesterday afternoon. The strike was predicated by the Ministry firing a bus driver who refused to take a drug test five times after being involved in an accident.
Update 9:40am: Bus drivers are meeting at the BIU headquarters, many in uniform some in civilian clothing. Unofficial reports indicate that some drivers are not in support of the strike, and fully prepared to go back to work. Bernews has been made to understand that some bus operators wanted to drive their routes this morning, however were stopped from doing so by others.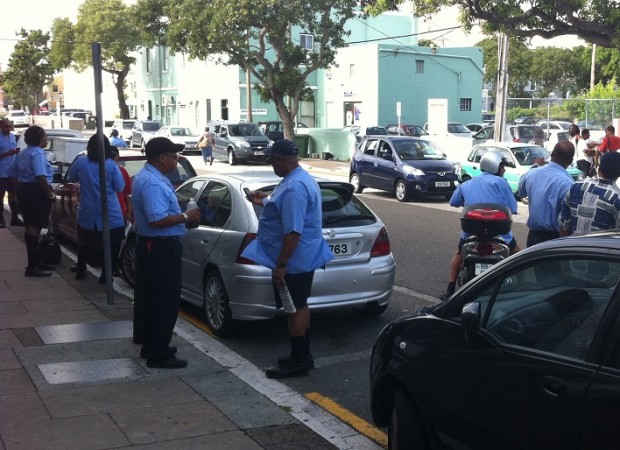 Update 10:00am: The meeting has broken up, and bus drivers are expected back again at 1pm. BIU President Chris Furbert is returning to the island today, and is expected to attend the meeting.
Update 10:19am: A Facebook event has been posted calling for a rally against the bus drivers strike from 12:30pm – 2:30pm today [Aug.18] at City Hall.
Update 12:15pm: A few Bernews readers are reporting seeing bus drivers out in uniform using their private cars to pick up people.
Update 12:30pm: Demco said they have handed out just over 100 of the pink/blue ribbons that are being flown by people who are stepping up to assist transport people.
Update 12:40pm: The rally against bus drivers is underway. A dark cloud has come over City Hall, and those in attendance have moved to shelter under City Hall in preparation for possible rain. Discounting media, there are approximately ten people present at this time including one bus driver.
Update 12:55pm: People have gathered at the steps now, carrying signs saying things like "Take the test", "BIU Enough is Enough" and "Government stand your ground."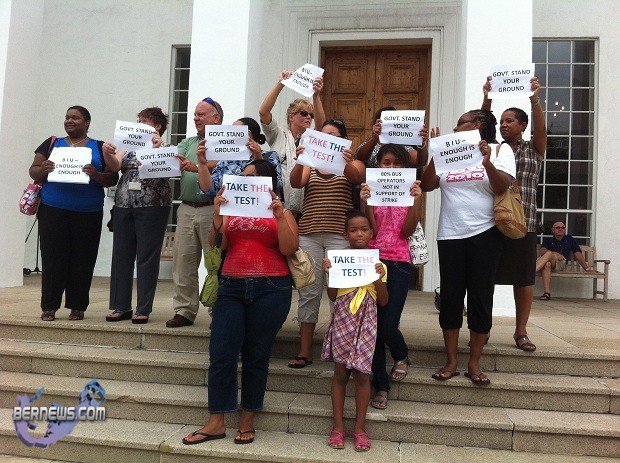 Update 1:01pm: Quick video from City Hall
Update 2:00pm: Minister of Transport Terry Lister released a statement extending his "profound thanks to the Bermudian public for their help and support last night and this morning in providing transportation for persons who have been left stranded by the bus strike." He also encouraged bus operators who wish to continue working to do so."Full statement here.
Update 2:22pm: Video below of Sahima Choudhury, who organized today's protest against the bus strike. She said she was "infuriated with what is going on, enough is enough, and I am glad that others feel the same way. We would have gotten more people, but many could not make it as buses were not running."
Update 2:42pm: A few minutes ago bus drivers who were congregating outside BIU headquarters were called inside by a union official. The bus depot on Palmetto Road is completely quiet as of this time, photo below.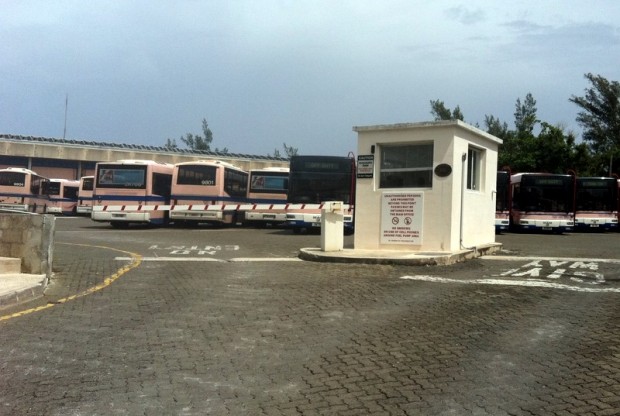 Update 3:02pm: BIU President Chris Furbert – who just returned to the island – will be hosting a press conference at 4pm.
Update 3:51pm: One bus is now on the road this afternoon. Earlier today Minister Lister encouraged drivers to work if they would like, and it appears that at least one bus driver has decided to break the strike and drive.
Update 3:52pm: Thanks to someone on our Facebook page, here is a link about a bus strike in Malta last month which saw 60 drivers walk off the job. Officials responded by flying in 55 British bus drivers to drive the routes. Their Transport Minister Austin Gatt is quoted as saying to the striking drivers "The days when you dictated what happened in public transport are over."
Update 4:00pm: We are at the BIU waiting for the press conference with BIU President Chris Furbert, which is due to start soon.
Update 4:15pm: The press conference is about to get underway, there are a number of bus drivers present. [Sorry for the lack of live stream it was logistically impossible, but we will carry the video later today]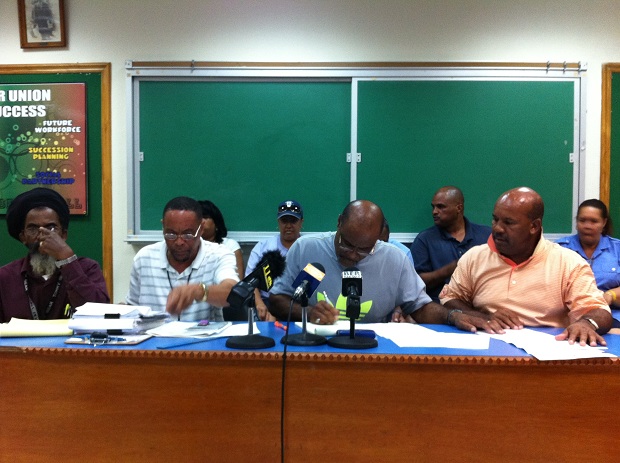 Update 4:31pm: BIU officials have said the strike will continue and they want the driver reinstated without loss of wages or benefits.
Update 4:33pm: When asked if the strike is still on, Mr Furbert replied, "The drivers are still here at the Union", and received applause from drivers in attendance.
Update 4:41pm: We are receiving reports that another bus has been seen on the roads. If the reports are accurate, that makes at least two drivers out on their routes in defiance of the strike.
Update 4:53pm: Department of Marine and Ports Services released a statement confirming all ferries are running as scheduled, and advised people who normally commute via the bus, to consider taking the ferry.
Update 4:55pm: We have [unofficially] confirmed that at least two buses are on the road. The photo below was taken 5 mins ago, in the area by Berkeley Institute showing the #4 bus on its route.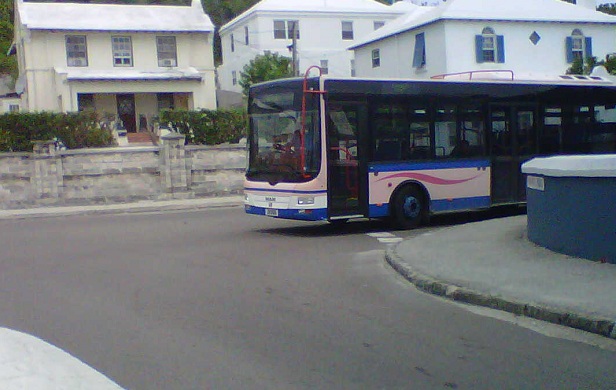 Update 5:09pm: The full 25 minute audio of the BIU press conference is below [videos to come]
Update 5:30pm: When asked about giving strike notice, Mr Furbert said they did not get notice the driver would be fired, she was fired "on the spot." Drivers in attendance applauded when Mr Furbert said they didn't give notice as they wanted "immediate action."
Update 5:38pm: When asked what the BIU will do if the DPT/Government does not back down Mr Furbert said, "If they decide to dig their heels in on this situation it will be very unfortunate. That is all I can say. I don't see why they would want to dig their heels in." He continued to to speak about policy not being followed, and refuted aspects of the accident report.
Update 5:45pm: When a reporter said the majority of people seem to be against the strike, Mr Furbert said unless you talk to all Bermudians you cannot say the majority of the public is against the strike. He said, "Unless you can tell me that 35,000 Bermudians are against the strike, you can't say the majority. I am not taking that." Some of the bus drivers present applauded his statement.
Update 5:50pm: Mr Furbert said someone emailed him saying they had to catch a taxi due to the bus strike, and wanted to know where they could get the money back. Mr Furbert said, "How many people around the world when this kind of stuff happens, actually send an email to the Union leader and say 'you know I was disadvantaged by that and someone needs to pay me.' That is the height of arrogance. And stupidity I might say."
Update 5:55pm: Press conference part #1 [7 mins]:
Update 5:55pm: Press conference part #1 [17 mins]:
Update 6:52pm: Premier Paula Cox issued a statement this evening [Aug.18] saying, "I would encourage the bus drivers to return to work. Disruptions like these are harmful to our economy and right now as a country we need to be rowing in the same direction." Full statement here.
Update 7:00pm: Pat Gordon-Pamplin, Shadow Minister for Transportation and Tourism, said, "The OBA repeats its call for this dispute to be sent to an arbitrator, as provided for in law, and the suspension of strike action. The Island is being held to ransom, disrupting thousands of commuters and tourists and damaging the Island's tourism reputation. This situation has been allowed to spiral dangerously out of control, far out of proportion to the particulars of the dispute, and we are left to wonder what hidden agendas may be driving the situation. Bermuda is being damaged – its economy, its reputation and its morale. Calm, reasonable people need to step up. It's time to get smart. It's time to put Bermuda first.
Read More About