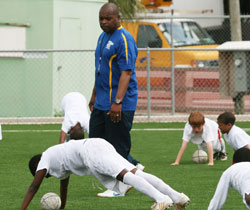 Dennis Brown has parted ways with the Somerset Trojans and has joined the Devonshire Cougars.
Mr Brown guided the Somerset Trojans to the Premier Division last season, winning the First Division Title and Premier Development League Christmas Tournament.
"I was definitely looking for a fresh challenge as I have been at Somerset as Head Coach for the past 8 years, so as an individual and coach I am always looking for new challenges to remain sharp and increase my learning," said Mr Brown.
"I also thought that it was the right time to pass the torch at Somerset and allow others to take the team a bit further and the team now has to start hearing another voice."
When asked how difficult it was to leave the Somerset Trojans after just winning promotion, Mr Brown said, "It was a very difficult decision and after consulting a couple of friends and family members I made up my own mind."
"It was extremely difficult because I have coached most of the guys ever since they were 12 years old so lots of thought had to go in my final decision. I am totally satisfied that the programme is in a healthy state than when I arrived."
"At that time the club didn't have the luxury of pulling players from the youth team into the senior team, but now the youth programme is thriving and is sustainable for years to come."
Read More About