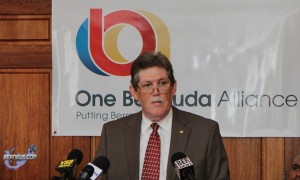 [Updated with video] John Barritt today [Sept.15] submitted his resignations as Member of Parliament for Devonshire South Central and his position as Leader of the Opposition.
The resignations follow Saturday night's election of Senator Craig Cannonier as Leader of the One Bermuda Alliance.
Mr. Barritt pledged last May, while announcing the formation of the new party, that he would resign his seat in the House of Assembly after its leadership contest "to make way for the new leader should he or she not already be a Member of Parliament."
At the time, Mr. Barritt, who served the past four months as the Party's Interim Leader, said: "I have committed to this role because there can be no change without people willing to make change. That is my particular commitment to the OBA and to change."
Mr. Barritt's resignation opens the way for Mr. Cannonier to contest a by-election for the right to represent the people of Devonshire South Central and win a seat in the House of Assembly, thus becoming eligible for appointment by the Governor as the Official Leader of the Opposition.
The Parliamentary Elections Act states that a by-election must take place on a day "not earlier than twenty-eight days after the issue of the writ nor later than two months after the occurrence of a vacancy which occasioned the issue of the writ."
The Bermuda Constitution requires the Premier of Bermuda to set the date for a by-election. Mr. Barritt's resignation today leaves plenty of time for the by-election to be held before Parliament returns to business on Friday, November 4th.
Mr. Cannonier said he was deeply grateful for the opportunity Mr. Barritt had created.
"What John has done is extraordinary. I will do my best to justify his exemplary and gracious act. He is a great Bermudian, a man of principle and integrity who is stepping aside to give the country a new opportunity for change. Mr. Barritt embodies the "Bermuda first" commitment that underlines the OBA, and I see his actions today as the measure of the man.
"An opportunity has been created, but I take nothing for granted. I still must earn the trust and support of the people of Devonshire South Central. That is my mission and I will give it my best effort. There are big shoes to fill.
"They have had a great representative in Mr. Barritt. No matter what door you knock on, John is seen in the best light: attentive, courteous, engaged and caring. He listened. He stayed in touch. He was always available, and when he spoke he did so in a manner that made people feel he had their backs."
"My mission in the weeks to come is to meet with all the people of Constituency 12 and assure them that I will be there for them, just as John has been. I am really pleased he will be working work with me in this undertaking."
Mr. Barritt effected his resignations today in two letters – one to the Speaker of the House of Assembly resigning his seat as Member of Parliament for Constituency 12 and one to the Governor resigning his position as Leader of the Opposition. He will today be posting a letter to the people of Constituency 12 explaining his decision and his commitment to work with Mr. Cannonier on their behalf."
Of his decision to step down, Mr. Barritt said, "If we believe in the need for change in politics in Bermuda – and I do – then we have to accept that we ourselves must sometimes become the agents for change. That has been the case for me. "I'm encouraged by the excitement and the hope which the One Bermuda Alliance has generated since its formation and particularly so at our first convention in which Senator Cannonier was elected leader."
"I believe we are on the right track to providing Bermuda with a stronger, more viable alternative to the current PLP Government. Now, our number one objective is to get our new leader into the House of Assembly."
Mr. Cannonier said today's news does not mark the end of Mr. Barritt's service to Bermuda.
"Mr. Barritt has played a central role in the formation and growth of the OBA and he will continue to have an important role as we move forward. Aside from his wise counsel, we would like him to oversee the development of plans to reform government."
"John has worked tirelessly for the better part of two decades to develop reforms that can provide Bermuda with more open, more transparent, more responsive and more accountable government. As he said in his speech on Saturday night, the goal is to 'give Bermuda what it deserves: Better Government.' My colleagues and I will continue working with John on this essential programme."
To keep Devonshire South Central residents connected in the weeks ahead, the OBA has set up two contact numbers. People can email constituency12@oba.bm or, as of Monday, September 19, telephone 294-3212.
Update 6:02pm: We caught up with Senator Cannonier and Mr Barritt today, video below:
Read More About