The OBA is set to hold their Leadership Elections tomorrow evening [Nov 18], with Jeanne Atherden, Craig Cannonier, and Patricia Gordon-Pamplin standing for OBA Leader, while Leah Scott is the sole candidate for Deputy Leader.
This leadership election comes after former OBA Leader Michael Dunkley resigned as Party Leader in July following their loss in the General Election, with Patricia Gordon-Pamplin subsequently named the interim Party Leader.
Ms Atherden, Mr Cannonier, and Ms Gordon-Pamplin all served as Cabinet Ministers when the OBA was in power, and Mr Cannonier previously served as the OBA Leader, and Premier, before stepping down in May 2014 amidst the 'JetGate' controversy.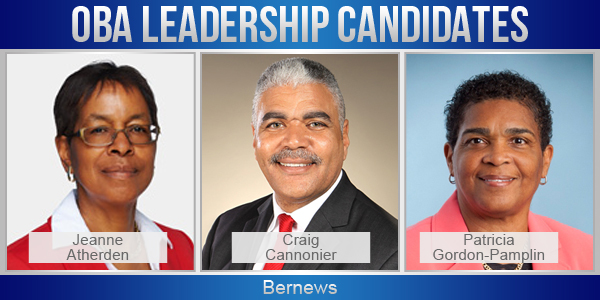 In addition to OBA Party Leader and Deputy Leader, the OBA will also hold elections for Party Chairperson and two Party Deputy Co-Chairpersons positions on Saturday evening.
The OBA has officially confirmed the candidates, telling Bernews, "Following the nomination deadline on Friday last, we are pleased to confirm the following candidates for:
Party Leader:
The Hon. Jeanne Atherden
The Hon. Craig Cannonier
The Hon. Patricia Gordon-Pamplin
Deputy Leader:
Party Chair:
Simone Barton
Sen. Nick Kempe.
Deputy Chair:
Justin Mathias
Sen. Nandi Outerbridge
The Party previously said that "in order to vote for the Party Leader and Deputy Leader, you must be an OBA Member who is on the Parliamentary Register."
Read More About