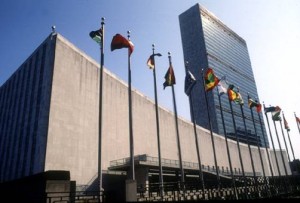 The United Nations General Assembly  in New York will today [Dec.9] discuss a draft resolution reaffirming the incompatibility of any form and manifestation of colonialism, including economic exploitation, with the international organisation's charter.
Bermuda is on the official list of territories being discussed as well as Anguilla, Cayman Islands, Falkland Islands, Turks and Caicos, British Virgin Islands, Montserrat, St. Helena, Gibraltar and Pitcairn, all under British Overseas
Territories. The US Virgin Islands also appears along with Guam and American Samoa [US administered], New Caledonia [French], Tokelau [New Zealand] and Western Sahara [former Spanish colony occupied by Morocco].
The initiative was proposed last month by the Special Political and Decolonisation Committee of the UN with the title "Implementation of the Declaration on the Granting of Independence to Colonial Countries and Peoples."
At that time the document received 149 votes in favor, three against — United States, Israel and the United Kingdom — and two abstentions — Belgium and France — and must now be sanctioned by the General Assembly.
The text recognises that the elimination of colonialism has been one of the priorities of the UN and regrets the lack of results of measures seeking that goal by 2010.
And it ratifies the decision that declared the decade of 2011-2020 as the Third International Decade for the Eradication of Colonialism.
The initiativet urges the administering powers of colonial territories "to take necessary measures so that the peoples of these entities to exercise fully and without further delay their right to self-determination, including Independence."
The resolution also reiterates the determination of the UN to "achieve complete and rapid elimination of colonialism" and calls upon all states to the observance of the Declaration on the Granting of Independence to Colonial Countries and Peoples.
"The administering powers should ensure that economic activities and other measures in the territories under their administration will not jeopardise the interests of the peoples of those places, but instead promote development and help to exercise their right to self-determination," said a UN spokesman.
"Along the same lines they demand to safeguard and guarantee the inalienable right of the peoples of those Territories to their natural resources to establish and maintain control over future development of those resources."
Bermudians resoundingly rejected Independence at a 1995 referendum. With just over 58 percent of the electorate voting in the plebiscite, 73 percent voted against Independence and only 25 percent in favour.
In 2004 then Premier Alex Scott convened the non-partisan Bermuda Independence Commission to educate, inform and encouraging discussion on the subject of cutting the island's remaining constitutional ties with the UK. Its final report was submitted to Government in 2005
Read More About