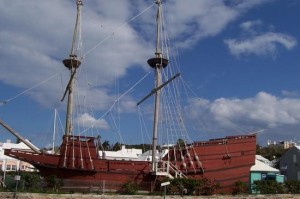 When the survivors of the Bermuda "Sea Venture" wreck arrived in Virginia in 1610, they found the English settlement of Jamestown reduced to what has been called "a worlde of miserie" — with famished colonists eating dogs, cats and snakes. And perhaps one another.
The castaways, who finally escaped from the island aboard two Bermuda-built ships "Deliverance" [the modern replica in St. George's is pictured here] and "Patience", finally reached Virginia during a period which has become known as "The Starving Time". In the winter of 1609-10, some settlers at the oldest permanent English colony in America reputedly dug their own graves and lay down in them, resigned to death.
George Percy, one of Jamestown's early leaders, in about 1625 provided what is probably the best-known and most gruesome account.
He described hunger-crazed colonists digging up the dead, and one man who supposedly killed, "salted" and carved up his pregnant wife for food. By March, 1610, more than half — by some accounts, 80 percent — of the Virginia settlers had died.
Three months later, the arrival of the two ships from Bermuda along with a relief fleet led by new Virginia Governor Lord De La Warr saved the Jamestown colony from likely extinction.
American historian Lorri Glover — co-author of "The Shipwreck That Saved Jamestown: The Sea Venture Castaways and the Fate of America" — recently spoke about the accidental settlement of Bermuda in 1609 and the role its survivors played in the eventual rescue of the failing Jamestown colony at Kentucky's McConnell Center.
In the 2008 book, Dr. Glover and co-author Daniel Blake Smith made a forceful case that the "Sea Venture" bears no small part in the ultimate survival of English colonisation in America in their account of shipwreck, courage, mutiny and deliverance .
Dr. Glover teaches American history at Saint Louis University.
Dr. Glover's McConnell Center Lecture "Faith, Fortune and the Founding of English America"
Read More About