Series 1 of the Optimist Winter Series sponsored by JLT concluded on Sunday. The racing took place for the BODA Gold and Silver Fleets with 21 boats entered.
Near perfect conditions greeted the sailors in Granaway Deep on Sunday, which enabled Principle Race Officer Jay Hooper and his team of volunteers from the host Club RBYC to set fantastic courses for all the sailors to enjoy.
4 of the 5 races sailed saw both the Gold and Silver Fleets racing together and on many occasions some of the Silver Fleet sailors were challenging their Gold Fleet rivals.
Benn Smith [pictured below] continued his dominant form to win 2 of the 5 Gold Fleet races, Campbell Patton also won 2 races, though his 24th places saw him tie on 10 points for the day with Matilda Nicholls. The RBYC Optimist youngsters were closely followed by Kieran Sawnn and Yannick Hiller in 4th and 5th place respectively.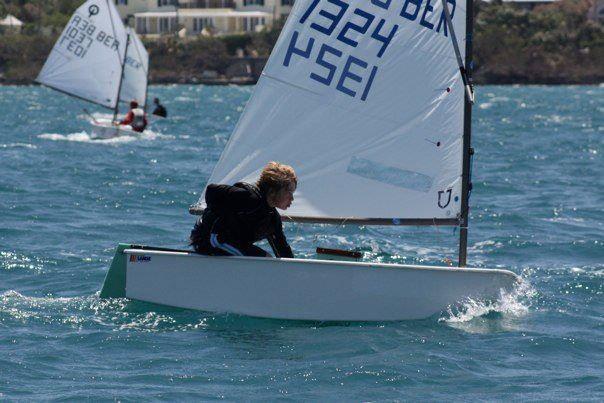 Over all for Series 1 in the Gold Fleet, Benn Smith was the walk-away winner counting 6 1st places in a remarkable set of results. Benn not only won the racing, he also won the applause from spectators for an act of good sportsmanship.
In race 2 both he and Campbell Patton sailed the wrong course; both realised their mistake and after heading back in the right direction, Benn had overtaken Campbell, however  Benn slowed up to allow Campbell back into 1st place.
Olympian and International Race Officer Jay Hooper applauded Benn Smith as he crossed the finish line and after racing said "it is great to see such a fantastic sporting gesture on the water today from a sailor so young".
BODA Sailor Development Officer, Ben Nicholls, commented after the racing: "The all-year-round sailing that Bermuda's Optimist sailors can enjoy is their absolute advantage. Many volunteers work hard to provide an excellent opportunity for the youngsters and having someone with the calibre of Jay Hooper to run racing for them is a sheer luxury.
"Benn Smith is to be commended for his unwaivering good sportsmanship this weekend. Benn like others before him is able to demonstrate that it is possible to win races and let good sportsmanship prevail.
"Benn is a very talented sailor and the training he has been doing this winter with Coaches Tom Herbert-Evans and Paul Doughty is realy starting make a difference. People should start to take note of this future star of Bermuda sailing."
The JLT Optimist Winter Series Gold Fleet Results for Series 1 Overall are as follows:-
1st Benn Smith 10pts
2nd Campbell Patton 23 pts
3rd Matilda Nicholls 30pts
4th Yannick Hillier 31 pts
5th Kieran Swann 33 pts
6th James Amarel 50pts
7th Peter Dill 56pts
8th Joe Arrowsmith 67pts
9th= Ceci Wollman & Mikey Wollmann 88pts
Meanwhile in the Silver Fleet, the racing could not have been more competitive, with the previous week's leader Alice Reeves regularly challenged by George Buckley, Adriana Penruddoke and Thomas Penruddocke.
George Buckley won the day with three 1st places and 6 pts in total, though Adriana (8pts) and Thomas (9pts) pushed him hard all afternoon.  Series 1 Overall was won by George Buckley by just 1 point ahead of Alice Reeves. Thomas Penruddocke (3rd) held of a challenge from his younger sister Adriana in 4th.
The JLT Optimist Winter Series Silver Fleet Results for Series 1 Overall are as follows:-
1st George Buckley 16pts
2nd Alice Reeves 17pts
3rd Thomas Penruddocke 21pts
4th Adriana Penruddocke 28pts
5th Grace Reeves 38pts
6th Sammie Dill 47pts
7th FlLo Nicholls 65 pts
8th Taj Maxwell 70 pts
9th Tre Maxwell 71pts
10th Tayte Stefaniuk 83pts
11th Charis Todd 96pts
Coach Paul Doughty was full of praise for his sailors, he said; "It's days like this when it makes it all worthwhile, to see the smiles on the sailors' faces while they compete to the best of their ability is what it is all about. I have seen many things over my 14 years as an Optimist Coach and you cannot beat a big smile from the kids!
"We are working hard to improve these sailors and the likes of Benn Smith and George Buckley are showing the fruits of our and their efforts. George is relatively new to the sport but is already winning the Silver Fleet, there are many more good sailors about to blossom and to see 8 year olds competing with the 14 year olds is just wonderful and Bermuda Optimist sailing is once again getting back on track.
"It is my prediction a few years from now, BER will once again be at the front of International Optimist Regattas if the Bermuda Coaches can work closely together and make it happen."
Of the 10 races sailed, 5 were with both fleets sailing together, the scores form these races will carry through to Series 2 as well.
The JLT Optimist Winter Series Combined Results for Series 1 & 2 are as follows:-
1st Benn Smith
2nd Campbell Patton
3rd Matilda Nicholls
4th Yannick Hillier
5th Kieran Swann
6th Adriana Penruddocke
7th George Buckley
8th Alice Reeves
9th Thomas Penruddocke
10th Grace Reeves
11th Flo Nicholls
12th James Amarel
13th Joe Arrowsmith
14th Sammie Dill
15th Tre Maxwell
16th Tay Maxwell
17th= Tayte Stefaniuk
17th= Peter Dill
19th= Ceci Wollmann
19th= Charis Todd
19th= Mikey Wollmann
Series 2 commences this Sunday, with racing on 4th, 11th, 18th and 25th March. RBYC will be holding a Prize Giving for the JLT WInter Series after racing on 25th. Any Optimist Sailors wishing to enter Series 2 should look at the RBYC website and download the Notice of Race and Entry Form.
Read More About