CdB Limited, the company which is redeveloping Waterloo House on Pitt's Bay Road in Hamilton on behalf of the Green family who purchased the site, said that 90% of its commercial space has now been rented as the project passes the halfway point to completion.
The signed tenants include a mixture of current Bermuda companies and those new to the island, attracted to the location, design and facilities offered by the Waterloo House office space.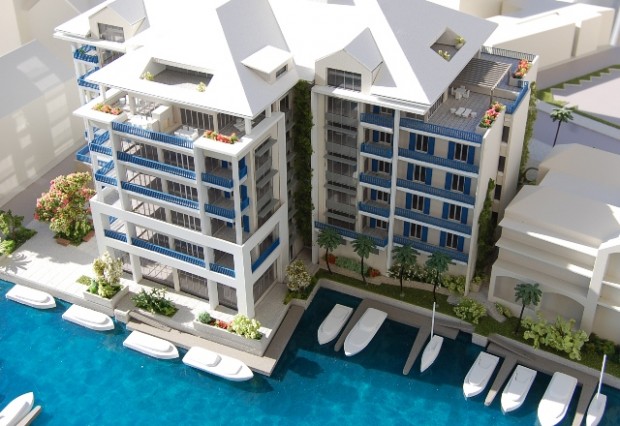 The $100 million development project on the site of a former hotel comprises nearly 90,000 square feet of office space and seven penthouse apartments, with both boasting unsurpassed panoramic views across Hamilton Harbour. The five-storey building will also offer underground parking and 8 new boat moorings in the harbour directly in front of Waterloo House.
Alexander and Andrew Green commented: "We are delighted with the progress at Waterloo House. To have leased most of the available space well before completion is testimony to the fact that there is still an active market in Bermuda for high quality property.
"The support we have received locally to date has been excellent for what we believe to be a real success story for Bermuda. This investment shows our confidence in the future for the island and one that we hope will encourage further investment into Bermuda.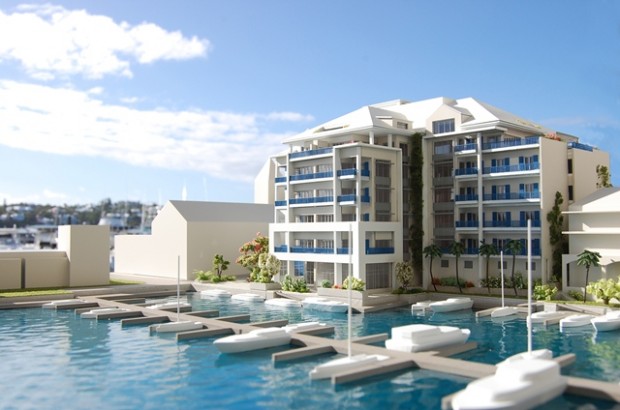 "We would like to thank all involved in the project to date, including D&J Construction and its subcontractors, Botelhowood Architects, Butterfield Bank and Bermuda Government's Department of Planning. All have provided a prompt and professional service, resulting thus far in the project remaining on schedule and within budget.
"They have all contributed towards the creation of a highly attractive residential and commercial space on the island and we are confident that, once complete, it will be admired as a positive addition to the cityscape of Hamilton."
Due to the building's prime location in the centre of Hamilton, careful attention has been given to incorporating both modern and traditional Bermudian features in an eco-friendly, sustainable design.
Environmentally friendly aspects of the building include special glazing to reduce solar heat gain and maximise thermal efficiencies, a first of its kind in Bermuda under-floor air conditioning distribution to reduce energy consumption, a daylight harvesting lighting system and solar power water heating for the residential component.
A modern Bermuda pitched roof and 'green walls' of vines will tie the building in with its natural waterfront setting and surrounding buildings. The entry court will feature a nautical themed art installation, designed by local artist Will Collieson.
Charles Brown, Director of Bermuda Government's Sustainable Development Department, says: "It is good news for Bermuda that the prominent Waterloo House site is being developed with sustainability in mind – from a social, environmental and economic perspective.
"By attracting new business to the island and encouraging existing business to stay in Bermuda through the provision of high-calibre commercial space, Waterloo House is providing vital economic stimulation. The courtyard will feature the work of a local artisan and the building and its amenities will have full disabled access. The sustainable design of the building, comprising the very latest energy and water saving technologies, will provide a tangible example of what can be achieved."
The residential apartments, with an average size of 2,863 square feet, will be released onto the long-term rental market over the next few months, in advance of summer/Autumn 2013 occupancy. They will be finished to a high specification including state of the art audio visual facilities and automatic blind and curtain controls, and exceptional island-wide views. The top floor will house a large residents lounge and roof terrace, which will incorporate fitness, kitchen and barbecue facilities.
Waterloo House is on schedule to be completed by August 2013.
Read More About