Speaking after his family's recent purchase of the Fairmont Hamilton Princess, Andrew Green said his family is "in for the long haul," and he hopes that the hotel will be something his "kids and grandkids" will be involved in years down the road.
"We are proud to be bringing this back to Bermudian ownership," said Mr Green. "And I can say with confidence we are in this for the long haul."
The property — which originally opened in 1885 — will continue to be managed by Fairmont Hotels & Resorts and there will be no changes to staff or operations as a result of the sale.
Mr Green confirmed his family will not be involved in the day to day operations, however will take an active role in the planned infrastructure upgrades.
Alexander and Andrew Green: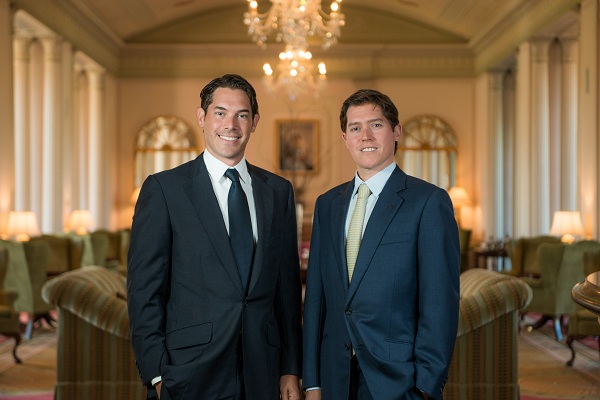 The family will continue the development plans started by GHI, which include building a marina, upgrading rooms, redeveloping the hotel's public spaces including the pools, gardens and restaurant.
They plan to spend some $50 million on the upgrades, which include refurbishing some rooms, various aesthetic details, an upgrade to the pool area, a waterfront restarant and 60-90 berth marina suitable for various styles of boats including superyachts.
When asked about their popular Happy Hour programme, Mr Green said it will continue and the only changes they would be looking at would be to improve it.
Asked his thoughts on our overall tourism product, Mr Green said there is always room for growth and our two biggest assets are the island's beauty and our close proximity to the U.S. east coast.
Although the family was previously involved in hotels in London, this is their first foray into the Bermuda hotel market. When asked if they intend to purchase any more local hotels or guest houses, Mr Green laughed and said "we think we have our hands full now."
Alexander and Andrew Green, who are in their early 30s, were raised by their father Peter after their mother Mary-Jean Mitchell Green died of breast cancer in 1990 at only 38 years old. The Greens donated money to the Bermuda Cancer and Health Centre, where the new biopsy suite is named in the late Mrs Mitchell Green's honour.
The family, which keeps a fairly low profile in Bermuda, also owns the Waterloo House on Pitt's Bay Road which is presently undergoing a $100 million development project.
The five-storey building will offer 90,000 square feet of office space, seven penthouse apartments, underground parking and 8 new boat moorings in the harbour directly in front of Waterloo House. 90% of its commercial space has been rented, and the project has passed the halfway point to completion.
Read More About