[Updated] The PLP have accused Shadow Finance Minister Bob Richards of a "flip flop" following his comments about the Cayman Islands decision to implement a special tax on ex-pats.
Cayman Premier McKeeva Bush said he did not want to impose the tax, but he had no choice because the United Kingdom was demanding a sustainable budget. The new tax will see foreign workers earning over $20,000 per year pay 10% taxes on their income.
Premier Paula Cox responded saying: "While Cayman has been forced to consolidate their finances, Bermuda has already taken plans to stabilise our fiscal position over the medium term."
Mr Richards had said that Bermuda "should take heed of what is happening in Cayman Islands, where its Government is being compelled by the UK to raise taxes because of excessive debt."
"Bermuda is, of course, a UK Overseas Territory," said Mr Richards. "We're not sure if the UK Government is concerned about Bermuda's debt situation, but the fact that Finance Minister Paula Cox has presided over an 800% increase in Government debt since 2004/05 must concern every Bermudian.
"If the Government's appetite for more debt continues at its record-setting pace – just in the last month we've taken on $180 million more debt – then the risk of external intervention in our financial affairs can only grow," continued Mr Richards.
A PLP spokesperson said: "Flip! Flop! It was only a few weeks ago that Bob Richards was lauding the Cayman Islands saying how great their economic model is and noting that they were getting everything right. He turned his nose up at Bermuda and Bermudians calling us a banana republic in comparison to how wonderfully strong the governance was in Cayman.
"Of course, Mr. Richards conveniently forgot to say that Cayman's international business was was quietly closing up shop and moving away from the jurisdiction. Over the last several years, in spite of their term limits policies, the number of guest workers in Cayman has dropped precipitously and their economy is struggling mightily.
"Now, Bob Richards has changed his tune on Cayman. Bermudians need the real Bob Richards to stand up!
"Bob Richards already has stated that the OBA's main strategy would be to suspend term limits and then figure something out. He and the One Bermuda Alliance have not been able to articulate any concrete strategy for the economy. All that are spoken are criticisms of the current government, and pandering to the Cayman model.
"Bermuda needs an advocate for Bermuda, not a Member of Parliament who seems to have an affinity for our competitor jurisdictions. Mr. & Mrs. Bermuda need to know from one day to the other which Bob Richards they will be dealing with.
"Premier Paula Cox and the Progressive Labour Party have always stood strong for Bermudians and for the Bermuda model. When Bermuda's reputation was being impugned by the Cayman Leader, it was Premier Cox who rallied to our defense.
"It was Premier Cox who has published her plan for rejuvenating Bermuda's economy and introducing policies and legislation that makes Bermuda attractive, flexible and the envy of many jurisdictions including Cayman! Conversely, it was Bob Richards who joined the chorus against us," concluded the statement from the PLP.
Update 10.05am: The Caymanian Compass newspaper has put a photo of Premier Paula Cox on their front page, along with part of her statement in response to Cayman's recent decision and past statements from the Cayman Premier.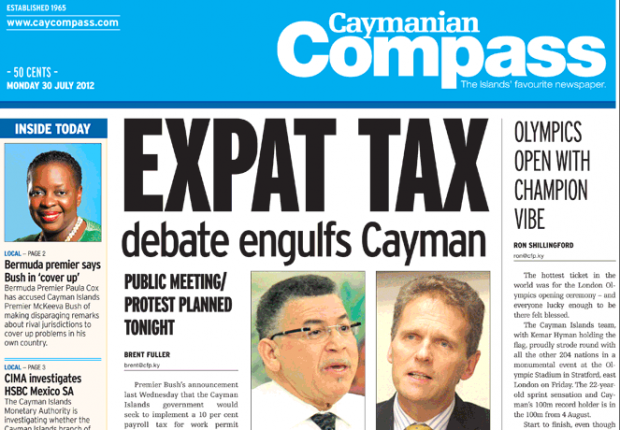 Related Posts