Earlier today [Aug 7] Premier Paula Cox attended the Men's Triathlon at the 2012 London Olympics, to cheer on Bermudian Tyler Butterfield, who finished in 34th position.
Premier Cox said, "Tyler represented Bermuda proudly and is truly an inspiration to all Bermudian athletes. He had the fastest time in the cycling part of the Triathlon. Also, he was the only cyclist to bring the third pack to the second pack and was alone in the chase to the lead pack.
"Following the race, he told us how pleased he was to hear us and see the flag. He truly did Bermuda proud and showed true grit and determination. We consider Tyler to be a true champion and a distinguished sportsman who gave a valiant effort today."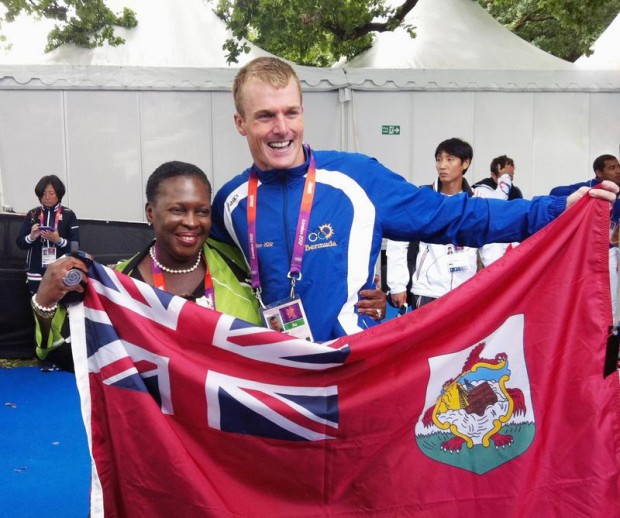 A Government spokesperson said, "Premier Cox, who along with the Minister of Youth, Families and Sports, Glenn Blakeney, is currently in London this week to support Bermuda's Olympic athletes participating in the London Games. It should be noted that the Foreign Commonwealth Office (FCO) has graciously provided courtesies for visiting official Country representatives.
"On Thursday (Aug. 9) the Premier and Minister Blakeney, will host a special reception in honour of our athletes competing in the Games.
"The event will be held at Aspers Sky Bar, Westfield City, 312 The Loft, Montfichet Road, Olympic Park E20 1ET, at 6.00pm. The event is open to all Bermudians and friends of Bermuda who have either travelled to London to support our athletes or those who reside in the UK."
Read More About