Bermuda's team has entered the stadium during the Opening Ceremony for the London 2012 Paralympic Games being held this afternoon [Aug 29], with Bermuda's sole athlete Jessica Lewis serving as the flag bearer.
The 19-year-old is the first Bermudian track and field athlete to ever make an appearance in the Paralympic Games. She joins 4,280 athletes from 166 countries competing across 12 sports during the 11 days of competition.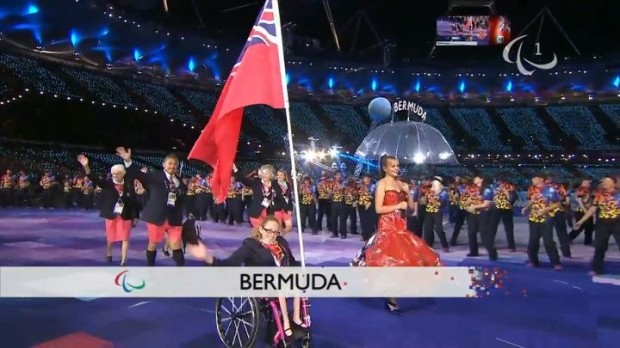 Professor Stephen Hawking and Sir Ian McKellen lead the Opening Ceremony which was attended by Her Majesty the Queen, and started off with a fly past by an organisation called Aerobility that works with disabled people and enables them to fly.
Ms Lewis will represent the island in three events in the 2012 London Paralympic Games; the T53 100m, the T53 200m and the T53 400m. She is ranked in the top 12 in the world in all three events.
In April 2010 she entered her first International Paralympic Committee sanctioned race, the Dixie Games in Tampa Florida. She achieved a time of 22.22 seconds for her 100 meter race and 40.90 seconds in her 200 meter race.
In July of that year she attended Boiling Point Games in Canada and added the 400 meter to her race list in a time of 1.17.62. In 2012, she achieved the qualifying standard for the Paralympics in the 100m, 200m and 400m.
She will begin competition this weekend with the T53 100m.
- Video courtesy of MAAC Facebook page
Read More About