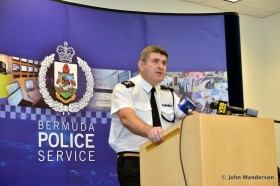 Superintendent Sean Field-Lament this morning [Mar 21] announced the launch of the 2013 Bermuda Police Service Recruitment Campaign.
Superintendent Field-Lament said, "The Bermuda Police Service is actively looking to attract the best local candidates to join our ranks. We are aware that in the current economic climate, there are a number of Bermudians looking for a meaningful career, or who are considering changing occupations – and the Bermuda Police Service presents a very viable option.
"As a police officer, successful recruits will join a dynamic organization with exceptional benefits – committed to policing with the community and 'Making Bermuda Safer.' All new officers will also be expected to adhere to the Bermuda Police Service Core Values of Professionalism, Accountability, Integrity, Dedication, Respect, Courage & Unity."
"Recruitment ads will soon appear in the media and officers from the Training Department will also attend various community events to promote this latest recruitment campaign.
"Those eligible to join the Bermuda Police Service as a Police Constable should:
Be between 19 and 49 years of age and possess a valid Bermuda driver's licence.
Be Bermudian, the non-Bermudian spouse of a Bermudian or if non-Bermudian, possess a letter from the Immigration Department stating that they have permission to work in Bermuda without a work permit – not seek employment.
Possess a school-leaving certificate with good academic standing.
Be committed to serving the community and upholding the law.
Be honest and possess a high degree of integrity.
Be team players, highly motivated, decisive and calm under pressure with good interpersonal skills.
"Along with meeting the initial requirements, applicants must pass the Police Initial Recruitment Test (PIRT), vetting checks, physical, psychological and medical tests as well as a home visit and an Assessment Board.
"Anyone interested in a career with the Bermuda Police Service is encouraged to pick up an application form at the nearest police station. In addition, application forms can also be downloaded from the official Bermuda Police Service website at bermudapolice.bm.
"Completed applications should be dropped off to the Training Department at Police Headquarters in Prospect, Devonshire. All applications should be submitted with three passport sized photos, a copy of the candidate's birth certificate and GED or High School Certificate plus three professional character reference letters.
"The deadline for this recruitment initiative is: Friday, April 19th, 2013."
Read More About