Pint-sized TV star Emma Kenney took a break from the rough-and-tumble world of the cable comedy "Shameless" to enjoy a weekend in New York, including a Broadway outing [Mar.2] to see "Spider-Man: Turn Off the Dark" — meeting friendly, neighbourhood Bermuda co-star Rebecca Faulkenberry after the curtain came down.
After taking in the high-flying musical, New Jersey native Emma, who plays Debbie Gallagher, the youngest girl in the dysfunctional family on the Showtime hit, backstage at New York's Foxwoods Theatre and said hello to Ms Faulkenberry [who plays Mary Jane Watson, the title character's love interest] and Spider-Man/Peter Parker alternate Jake Epstein.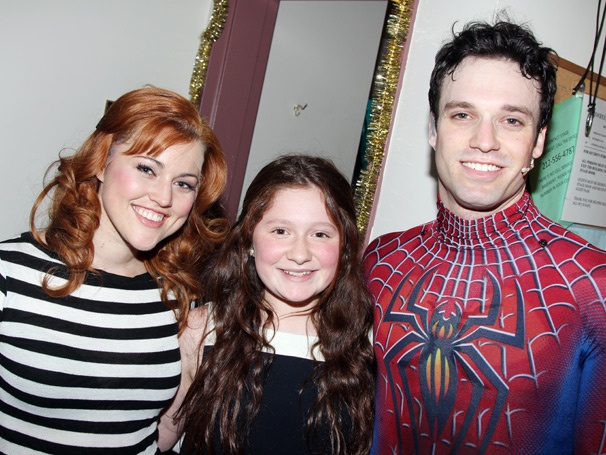 Bermudian Ms Faulkenberry joined the "Spider-Man" cast in November, 2011. She had made her Broadway debut earlier that year  in the '80s-era jukebox musical "Rock Of Ages." Before moving to New York, the former Bermuda High School student had worked in London's West End appearing in such shows as "High School Musical" and "Aunt Dan and Lemon."
"Spider-Man" began preview performances on November 28, 2010 and has gone on to become one o0f the most famous theatrical events in Broadway history, playing to packed houses and standing, screaming ovations nightly.
Featuring music and lyrics by 22-time Grammy Award-winners Bono and The Edge, direction by Philip William McKinley ["The Boy From Oz"], original direction by Tony Award-winner Julie Taymor ["The Lion King", "Across The Universe", "Frida"], the show stars Ms Faulkenberry, Reeve Carney in the dual role of Peter Parker and Spider-Man and Patrick Page as industrialist Norman Osborn and his crazed alter ego, the villainous Green Goblin.
Inspired by nearly 50 years of the Marvel comic book character created by writer/editor Stan Lee and artist Steve Ditko, "Spider-Man" follows the story of teenager Peter Parker, whose unremarkable life is literally turned upside-down when he's bitten by a genetically altered spider and wakes up the next morning clinging to his bedroom ceiling.
This bullied science-geek suddenly endowed with incredible powers soon learns, however, that with great power comes great responsibility as villains put both his physical strength and strength of character to the test.
Extended "Spider-Man: Turn Off The Dark" preview
Read More About
Category: All, Entertainment, Music