Two-time Olympian Tyler Butterfield topped off a breakthrough 2013 season with a second-place finish at Sunday's [Dec 1] Ironman Cozumel. His podium-worthy performance was propelled by a 2:49 marathon, his best Ironman run split to date.
The event  – which consisted of a 2.4 mile swim, 112 mile bike & 26.2 mile run — attracted elite athletes from all over the world, including Austria, Spain, Poland, Germany, Brazil, Ukraine, Australia, Argentina, Slovakia, Belgium, Columbia, Mexico and the United States.
The Ironman Cozumel result adds to Butterfield's already impressive 2013 race tally, wherein he placed third at the Abu Dhabi International Triathlon in March, scored two Ironman 70.3 podiums [Calgary and Muncie], finished ninth at the Ironman 70.3 World Championship and, in perhaps his standout event of the year, earned a hard-fought seventh-place finish at the Ironman World Championship in Kona where he remained in contention for an even greater result until the final two miles of the marathon.
Butterfield's 2013 season is even more remarkable given that only last year he represented Bermuda at the London Olympic Games in the ITU distance of triathlon, after a two-year qualification process in short-course draft-legal racing. During that time Butterfield bore the responsibility of racing fast and frequently enough to earn the requisite number of points to secure a spot for Bermuda on the Olympic start line.
Butterfield [with daughter Savana] congratulating the winner Michael Weiss in Mexico: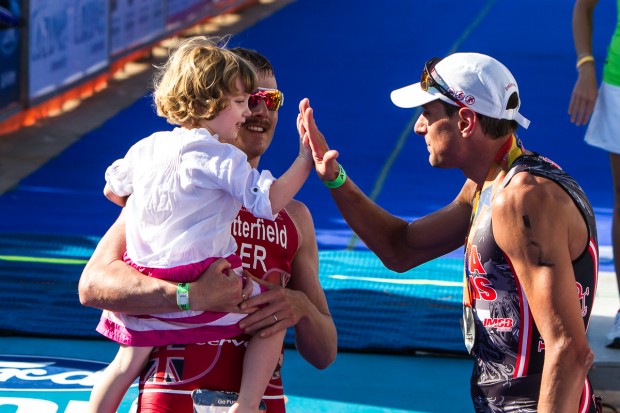 When asked about the difference between 2013 and his past experience in professional triathlon racing, Butterfield said: "A lot of things are coming together for me. I've been racing professionally since I was a teenager, and every year you just get stronger, wiser and understand what works for you better and better.
"I love racing ITU as it gives me a chance to represent my country in events like the Olympics and the Commonwealth Games, and because the racing style forces you to constantly improve because there's simply no room for error, but I'm finding that the Ironman distance is what suits me physically more than anything else. Both my Mom and Dad were good marathoners amongst other endurance sports, so it's in my genes to focus on the longer events.
"The other thing that has helped this year is that my home life has really settled down," he continued. "I remember Chris [McCormack] saying in 2006 that the difference between the years he wins and doesn't win is having everything else in his life sorted and settled. I understand that now. When Nikki was racing, too, I spent a lot of time and energy trying to help her reach her potential, because I thought she had a better chance at being successful than me.
"But we realized that what she wanted most was to be with our kids, so once she stopped racing that allowed me to focus fully on my career. Nik has really taken on helping me now, so all I have to worry about is making sure I show up fit and healthy to race. She does pretty much everything else."
The bike leg at Ironman Cozumel was slightly chaotic for Butterfield. Two screws fell out of his aerobars and he had to stop at an aid station and borrow an allen key-otherwise it's unlikely he would have completed the event, let alone finish in a good position. Fortunately the timing worked to his advantage, as eventual winner Michael Weiss rode past when Butterfield was sidelined by the mechanical, thus giving him a motivational carrot to chase back to the main group.
"It was a little disappointing to have to stop and fix my bars, because if Michael had caught our group without me having to put in the effort to chase back on, I might have tried to go with him when he broke away," said Butterfield. "But after the effort it took to catch back up, I knew that would be a silly decision. My primary goal was to finish the race rather than win, so I played it conservative."
- Photo courtesy of TRIJUICE
Read More About