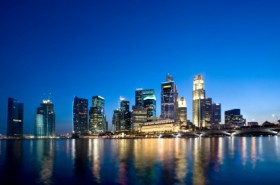 Minister of Tourism & Transport Shawn Crockwell, Attorney-General Mark Pettingill and a technical officer are in Singapore where they are meeting with various entities to discuss gaming models.
Minister Crockwell said: "I announced at a press conference on January 9th that the Government had decided to proceed with the Integrated Casino Resort Model, similar to the casinos in Aruba and Singapore, instead of the stand-alone casino model.
"Of the models studied to date, Singapore's endears itself to us the most because of its success at maximizing economic benefit and using gaming to benefit Singaporean society.
"In order to provide Bermuda the opportunity to benefit from Singapore's success, myself, the Attorney-General and Minister of Legal Affairs, together with a technical officer, are in Singapore this week.
"We will be meeting with various Government Ministries, agencies and individuals to discuss legislative and regulatory structure and various aspects of gaming that would be best suited to a successful gaming model for Bermuda.
"We will also have an opportunity to examine the societal impact of the their model. We are confident that our attention to the Singaporean model will preserve Bermuda's profile as a reputable international business jurisdiction on the international stage as we pursue this exciting opportunity to rejuvenate our economy."
Minister Crockwell added: "Let me also reiterate what I said on January 9th – that Casino Gaming is not a panacea but a much needed amenity for our tourism product. We must augment our tourism offerings and we must enhance our tourism infrastructure.
"The data shows that with the implementation of responsible and well regulated casino gaming we can attract new high-end hotel brands and additional hotel inventory.
"Casino gaming will bring hotel investors to the island which will lead to Bermudian jobs and provide a needed boost to the Bermudian economy.
"We will continue to keep the public informed and provide them with how gaming will work in Bermuda during our public education campaign that will begin next week," concluded Minister Crockwell.
The decision on gambling was initially supposed to be decided via a referendum, however last month Premier Craig Cannonier announced that they will bypass the referendum and the matter will be decided by a vote in Parliament.
Read More About