"This latest move by the Minister raises grave ethical concerns," OBA MP Leah Scott said after the Gaming Amendment was tabled in Parliament, adding that it is "one that does not bode well for the future of the gaming industry."
Casino Gaming Amendment Tabled
On Friday, a Casino Gaming Amendment was tabled in the House which will allow the Government to give "general directions" to the Casino Gaming Commission, and allow the Minster to "revoke the appointment of a member."
Minister of Economic Development and Tourism Jamahl Simmons also confirmed that he has "asked for the resignation of the Chairman of the Gaming Commission on three occasions; August 10, September 27 and October 20, 2017."
Speaking in the House on Friday, Minister Simmons said that it is "apparent that there are individuals who have not accepted the results of the recent general election, do not respect the mandate for change that the people of Bermuda delivered and would rather orchestrate systemic misinformation campaigns, jeopardize the reputation of Bermuda and undermine the government, than engage in a collaborative and mutually respectful relationship for the benefit of Bermuda."
"The Chairman of the Gaming Commission may want, crave, seek or desire a public fight," the Minister said, adding that "while others want public fights we seek a Bermuda that with greater economic growth and a diversified economy will bring new jobs and new industries."
"Although there are individuals within the Bermuda Gaming Commission seemingly prepared to drag Bermuda and its reputation through the mud to get their own way, this Government was elected to make change," the Minister said, adding that they "have a mandate to make change" and the Casino Gaming Amendment Bill "will execute that mandate."
Screenshot from the Amendment that was tabled: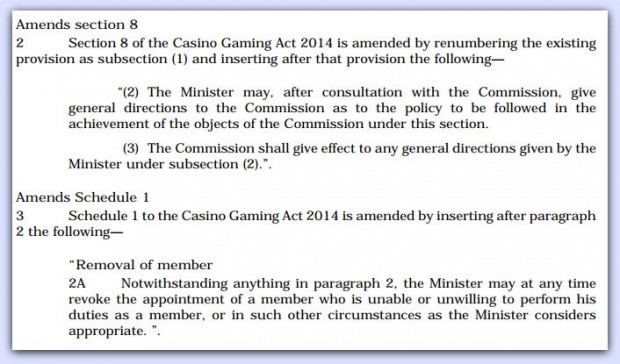 MP Leah Scott's Comment
Ms Scott said, "I am extremely disappointed in the Minister's decision to table a piece of legislation which now gives him the power to, in essence, interfere with the control and independence of the Casino Gaming Commission."
"It was always intended that the Commission was to be free from ministerial and political interference. The Minister has yet to produce any evidence of wrong doing or malfeasance by the Commission's Chairman, Alan Dunch. What is the real catalyst for this persistent pursuit?"
"This latest move by the Minister raises grave ethical concerns. It also leads me to question whether the protections against ministerial interference set out in various pieces of legislation passed by the One Bermuda Alliance Government, to prevent this very thing from happening, now run the risk of being amended and overturned to satisfy the whims of the Government.
"Surely the Minister is cognizant of the fact that this is an extremely sensitive time for Bermuda, and all other international financial centers, and this proposed amendment to the Casino Gaming legislation will only serve to undermine the confidence of those who have already applied for or may want to apply for a casino gaming license in Bermuda.
"This is a very dangerous precedent being set by the Government, and one that does not bode well for the future of the gaming industry, in particular, and Bermuda, generally," Ms Scott concluded.

Read More About