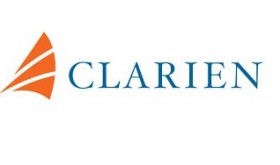 [Updated with photos] Clarien Group Limited announced that they will be renaming Capital G Bank to Clarien Bank Limited.
This includes all subsidiary companies: Capital G Investments Limited, Capital Trust Limited, Capital G BSX Services Limited, CGI Nominees Limited and Capital G Brokerage Limited.
Clarien said, "The Group combines unrivalled access to one of the world's most dynamic and sophisticated offshore financial centres and deep international banking experience to deliver world-class financial services to ultra high net worth individuals, families and corporations worldwide.
The company said that the organizational rebrand will not impact current clients ability to complete transactions using their current account numbers, Capital G credit and debit cards or cheques.
The former Capital G location at 19 Reid Street will continue to serve as the head branch, and the Paget Plaza location remains available for full financial services. Customer service remains available via the same phone number on 296.6969.
The company said, "Clarien Bank Limited shares the heritage of Capital G's strong reputation over the past four decades for providing high quality product offerings and services to meet the financial needs of its local clients.
"Clarien Bank Limited will draw on and use this heritage and the strength of its senior management team to offer an expanded range of products and solutions in wealth and asset management and corporate and investment banking to clients globally.
"Clarien Bank Limited will continue Capital G Bank Limited's successful expansion into the areas of M&A advisory, structured finance, brokerage, capital raising and listings, as well as the development and distribution of new investment products, especially insurance-linked products.
"Clarien Bank Limited will offer a full range of securities distribution, market making and underwriting capabilities through its investment banking arm, delivering market leading knowledge of legal and regulatory issues and financial expertise to clients across the Middle East. This inturn, will provide the bank with greater access to a broader institutional and qualified investor universe.
"Clarien Bank Limited will be led by a seasoned management team with deep international banking, investment banking, asset and wealth management, trust and insurance expertise. Mr. Zoran Fotak and Mr. Ian Truran, Co-CEO's, are both founders of Clarien Group Limited and have extensive knowledge and experience in banking, investment and trust services.
"Mr Fotak has held senior positions within Credit Suisse Securities, Merrill Lynch, the Royal Bank of Canada and St. George Asset Management. Mr Truran is a Bermudian national with extensive experience in the local and international banking industry, formerly at Butterfield Bank."
Slideshow of the new branding at their Hamilton location:
Zoran Fotak/Ian Truran, Co-Chief Executive Officer, commented: "Our ambition for Clarien Bank Limited is to develop a world-class financial institution with an international footprint that allows us to bring the strengths of Bermuda to a global client base.
"The emergence of a new generation of highly entrepreneurial, ultra high net worth individuals is challenging the traditional offshore banking model, with clients increasingly demanding a more sophisticated full-service offering.
"Bermuda is uniquely positioned with its sophisticated infrastructure, intellectual talent and accessibility to become the premier destination of choice for offshore banking solutions.
"We believe that the strengths of this jurisdiction, along with our unique blend of international banking experience, thorough risk controls and access to major global capital and financial markets will prove a compelling mix for clients."
In January of this year, CWH/Clarien Group assumed the majority ownership of Capital G Limited [now Clarien Bank], while Edmund Gibbons Ltd remained involved as a minority shareholder.
CWH Limited founders include David Carrick, Robert Flohr, Zoran Fotak, Mitchell Hedstrom, Ian Truran and Keith Stock.
The company said clients should now visit www.clarienbank.com to access eBanking or to learn more about the Clarien Bank rebrand, products and services.
Read More About