Clarien Group announced today [April 7] that Edmund Gibbons Ltd has returned as the sole shareholder effective 2 April 2015, with James Gibbons saying "on behalf of Edmund Gibbons Limited and the Gibbons family, we are pleased to report that we have become sole shareholders of Clarien Group Limited."
Ownership Change
The bank said that on 2 April 2015, Edmund Gibbons Limited reacquired the shares it had previously sold in Clarien Group Limited [CGL]. The Boards of Directors of CGL and Clarien Bank remain unchanged.
James Gibbons, Director of Edmund Gibbons Limited stated, "On behalf of Edmund Gibbons Limited and the Gibbons family, we are pleased to report that we have become sole shareholders of Clarien Group Limited.
"We remain committed to expanding Clarien Bank Limited's financial services business by working with strategic partners that will support our overall investment strategy to deliver world-class products and services for residents of Bermuda and international clients from around the world.
"We will continue to work towards BASEL III compliance as it is phased in given the extra responsibility that brings to us as a designated domestically, systemically important institution."
Ian Truran, Chief Executive Officer, said, "Looking forward to 2015, Clarien Bank is strengthened by the increased support of Edmund Gibbons Limited [EGL] and the Gibbons family, who have re-assumed full ownership of Clarien Bank's parent company.
"EGL remains fully committed to supporting Clarien Bank's service standard excellence and continuing to expand its suite of products to serve the needs of its local and international clients, and to explore opportunities for growth with partners in other jurisdictions."
In January 2014, CWH Ltd assumed the majority ownership of Capital G Limited, while Edmund Gibbons Ltd was set to remain involved as a minority shareholder. Capital G was then re-branded as Clarien Bank in April 2014.
Financial Results
The bank also reported their financial results, saying: "Clarien Bank's core business continues to perform well, with core earnings steadily increasing year on year to $5.2m in 2014 from $3.6m in 2013, after adjustments for non-recurring costs, an increase of $1.6m.
"Underlying reported earnings for the year ending 31 December 2014 were $0.5m, down from $3.6m in 2013. The decrease in earnings is the consequence of adjustments made for non-recurring expenses from non-core revenue diversification initiatives that the Bank has chosen not to invest in further at this time.
"Non-performing loans, being loans past due by 90 days or more, plus impaired loans, represented 13% of the total loan portfolio at 31 December 2014, of which 7% or $62.4 million were impaired, up from 5% a year ago. Specific provisions on balance sheet against impaired loans increased from $11.6 million to $18.0 million in 2014.
"During the year, Clarien Bank undertook a strategic review of its property portfolio and determined that certain premises would no longer be required in the ongoing operations of the company. Therefore the Bank distributed a property to its parent company, CGL, at its carrying value as a common control transaction."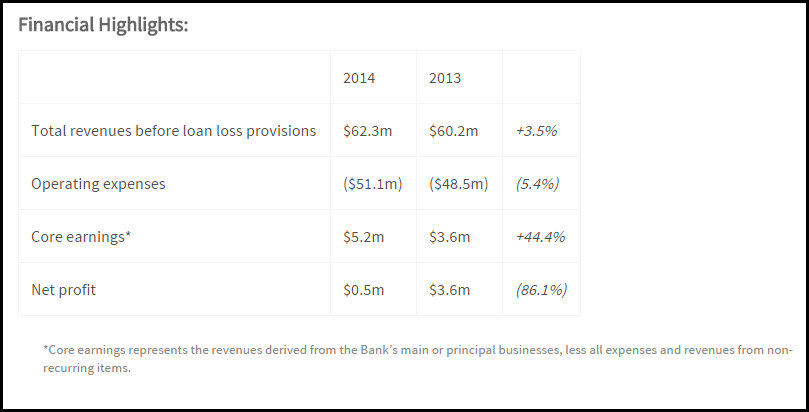 Ian Truran, Chief Executive Officer, said, "In 2014, Clarien Bank achieved its goal of becoming a more operationally efficient bank focused on service excellence, with a greater proportion of non-interest income, resulting in fewer risk weighted assets on the balance sheet.
"Clarien Bank saw an increase in total revenues, and the decline in our profit was predominantly due to large, one-off, expenses that will not have any continuing effect on earnings going forward."
"We made strategic organisational changes in the latter half of 2014 in order to align key roles to areas of priority, such as operational excellence, client service, risk management and product development and delivery.
"Based on a close examination of our core businesses, decisions were made to disinvest in certain non-core initiatives and refocus and further invest in key lines of business. Clarien Bank is very well placed to achieve further success in 2015."
"Bermuda continues to be challenged by its current economic position as evidenced by some of our clients' inability to service their debt payments. As a result, net provisions on loan losses rose by 27.3 % from $7.7m in 2013 to $9.8m in 2014.
"We continue to work empathetically with our clients to facilitate their long term financial successes and early indicators for the year show some improvement in the relevant sectors of the economy."
"Clarien Bank remains thoroughly committed to the principles of prudence, safety and soundness and operating in excess of regulatory capital requirements. The Bank's consolidated capital ratio increased to 15.52% from 14.84% reflecting a fall in risk weighted assets despite the distribution out of premises no longer required."
Read More About