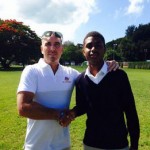 Bermudian student athlete Mikale Williams begins his preparatory school experience this summer having successfully passed the entrance requirements as part of the athletic admissions program at Mercersburg Academy in Philadelphia.
A spokesperson said, "CP Athletic Development prepared an extensive athletic profile and analysis on Mikale for the athletic team at Mercersburg Academy.
"The analysis included an overview of Mikale's strengths, personality, and areas for growth. Following a review of the package submitted by CP Athletic Development, Mikale has been accepted into the program and will commence studies in August.
"Mikale is currently a Year 9 student at Warwick Academy."
Just last month, Mikale was named as one of 30 teens invited to the Digicel Kickstart Clinic, a two-day training session with Chelsea FC Foundation coaches held from May 9 through May 11, 2014.
Read More About