Earlier today [May 28] eight Mount Saint Agnes Academy [MSA] high school students were inducted into the Elizabeth Seton Chapter of the National Honor Society [NHS] at the 33rd Annual Induction Ceremony.
Tahnaesha Astwood, Kristen Bean, Matthew Brady, Simon Cabral, Vanessa Cardoza, Sandrine Hébert-Pelletier, Stephanie Medeiros, and Luke Pimentel were selected for membership by a Faculty Council based on their outstanding scholarship, character, leadership, and service.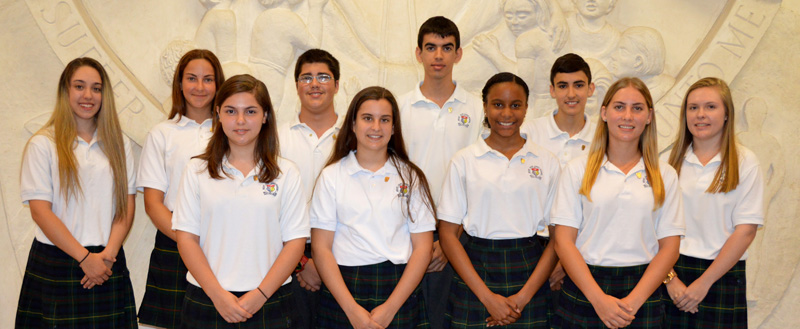 These students join current members Alyssa Cardoso and Meagan Stecko, who have continued to withhold the Six Pillars of Character: respect, responsibility, trustworthiness, fairness, caring and citizenship.
In granting membership, the Society seeks to acknowledge and to encourage high standards of commitment, achievement and performance in scholarship, service, leadership and character.
It provides motivation, incentive and opportunity for students to aspire to exceptional levels of personal development and accomplishment that will strengthen and benefit their lives, the lives of others, the life of the school and the life of our Island community.
.
To be eligible for selection to membership for the chapter, candidates must hold a minimum grade point average of 3.0 or 85% and have completed of a minimum of 40 pre-approved community service hours by the NHS advisor.
The Most. Rev. Bishop Robert Kurtz, CR, Father Paul Voisin, CR, and former principals, Sister Dolores and Sister Judith, were in attendance to celebrate the special event.
Click to enlarge photos:

Read More About