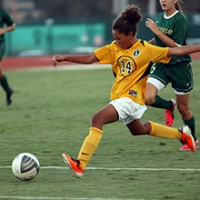 Talented youth footballer Jasmine Spence has taken on the role of Junior Counselor within the CP Athletic Development training team.
CP Athletic Development founder Peter Rickards said, "Handing Jasmine a formal role is part of our young athlete empowerment plan. I have been working with Jasmine in various capacities since she was 5-years-old.
"Jasmine is currently a student at Montverde Academy in Florida and has been training with us during every school break while she is at home on holiday.
"The primary objective is to keep her fitness level up, work on developing strengths, and target areas for improvement. In her new role, Jasmine will now assist with our camps and will no doubt be a motivator for our members to continue their schooling abroad."
Ms. Spence was recently named as one of 10 footballers named as a 2014 HSBC School of Excellence participant.
Read More About