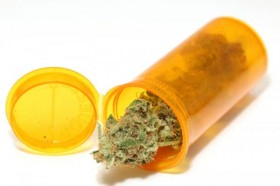 The OBA's next caucus meeting on Tuesday, September 2, will "meet a rebellion" against a "trick the Government played on gravely ill and dying patients", says cannabis activist Alan Gordon.
Mr. Gordon said that last January, Minister Michael Dunkley "told the public that compassionate cannabis permit applications could be filed with his office, with a doctor's support.
"This has proven to be untrue, with the Permanent Secretary as well as the Health Ministry Chief Medical Officer denying the programme's existence," said Mr. Gordon.
"Gravely ill and dying patients took the Premier at his word, and scurried from doctor to doctor, sapping their final reserves of time and energy, only to find out that Government had secretly cancelled the programme, despite taking public credit for their alleged compassion."
Mr. Gordon called Government's move a "dirty trick" to play on the gravely ill and dying, and said "The time for sound bites and stock answers is over. We want direct, honest talks with follow-up questions because we were lied to, and we don't trust these guys anymore."
The activist has also requested that in any talks with the Premier, that journalist Ayo Johnson be present as a "fair witness".
Mr. Gordon said, "The rally, scheduled for 6:30 pm outside the OBA HQ on Reid Street, will feature patients stretching a thin, soft paper chain across the exit to the building.
"Any OBA official who has a legitimate health care or child care concern will be allowed to leave without breaking the paper chain," explained Mr. Gordon.
"Otherwise, any official who tries to escape prior to Premier Dunkley's appearance will have to break the chain and be seen by the public and the media to have fled gravely ill patients who allege that they were deceived by the Premier of Bermuda.
"For public safety and order, demonstrators must not impede any pedestrians or vehicles along Reid Street, and so should line up single file to the East and West of the OBA HQ. "
Mr. Gordon says the rally will be attended by patients, family members, caregivers, and members of the public who sympathise with their plight, and also invited concerned members of the public to participate.
Read More About