A cigar that Winston Churchill smoked during a Cold War conference in Bermuda up for sale at PFC Auctions in Guernsey, with reports suggesting that it may fetch up to £3,000 [$4,900].
The Bermuda meeting was held in December 1953, with Britain's Prime Minister Winston Churchill, US President Dwight D. Eisenhower and French Premier Joseph Laniel meeting to discuss relations with the Soviet Union during the Cold War.
Originally planned for the summer, the meeting between the three world leaders was postponed until December after the British leader — who had previously visited Bermuda in 1942 – suffered a serious stroke.
President Eisenhower and Prime Minister Churchill pictured at the Mid Ocean Club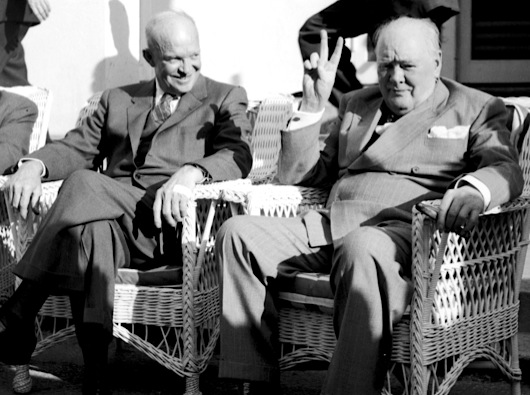 And according to the UK's Express, a soldier guarding the meeting room in Bermuda collected the still-smoking cigar when he was sent in to tidy up afterwards, and stubbed it out in an ashtray before pocketing it as a souvenir.
The Express reports, "The cigar is being sold with a letter of provenance from the soldier who was serving with 1st Battalion Royal Welsh Fusiliers in Jamaica when he was sent to Hamilton, Bermuda, in 1953 to guard some of the world's most important men of the time.
"Sgt Hughes stood outside the main conference room for several hours, armed with a machine gun, alongside two FBI men.
His letter reads: "The conference lasted several hours. When over, and the conference room emptied, Capt Sinnet and myself and others, went in for souvenirs.
"Capt Sinnet took small flags of each country involved. Myself, I took Winston Churchill's still smoking cigar from his ashtray, stubbed it out, and have kept it for 50 years."
The description on the auction house's website said, "Sir Winston Churchill is largely regarded as one of the greatest wartime leaders. He was the prime minister of the United Kingdom from 1940-1945 and again from 1951-1955.
Photo courtesy of PFC Auctions: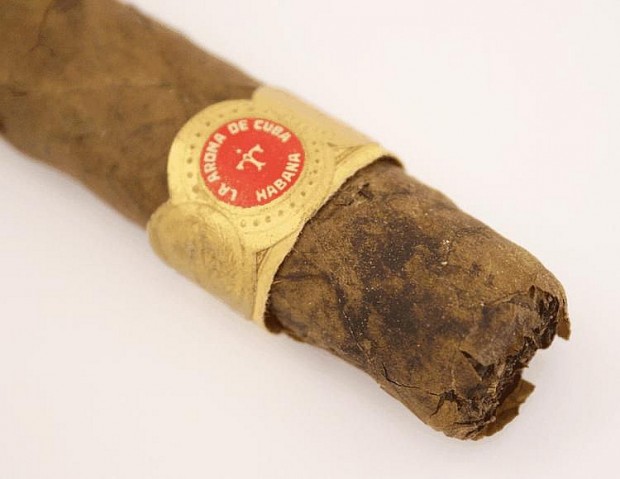 "He is the only British prime minister to have ever received the Nobel Prize in Literature. When Churchill died in 1965 he was granted a state funeral by the Queen. His funeral saw one of the largest assemblies of world statesmen ever and even the Queen attended.
"This half smoked La Aroma de Cuba cigar [Churchill was known to smoke both this brand and Romeo y Julieta], measuring approx 3½" long, was originally collected by a soldier whilst serving in the First Battalion Royal Welsh Fusiliers whilst on duty in Hamilton, Bermuda, guarding the meeting room for several hours in 1953 when Churchill, President Dwight Eisenhower of the United States and Premier Laniel of France were there. The soldier collected the 'still smoking' cigar when sent in with others to tidy up.
"The cigar is sold with a letter of provenance from the soldier, various Bermudian press cuttings and the soldiers Bermudian driving licence proving."
Read More About