TEDxBermuda 2014 will take place on October 4th at the Fairmont Southampton, with renowned explorer Oliver Steeds and film and TV star Adjoa Andoe heading the roster of international and local speakers at this year's event.
This is the fifth TEDxBermuda event and organisers expect it to be the largest yet, and after the main event, there will be a "Meet the Speakers" wrap party at Pier 6 in Hamilton from 7:30 pm onwards.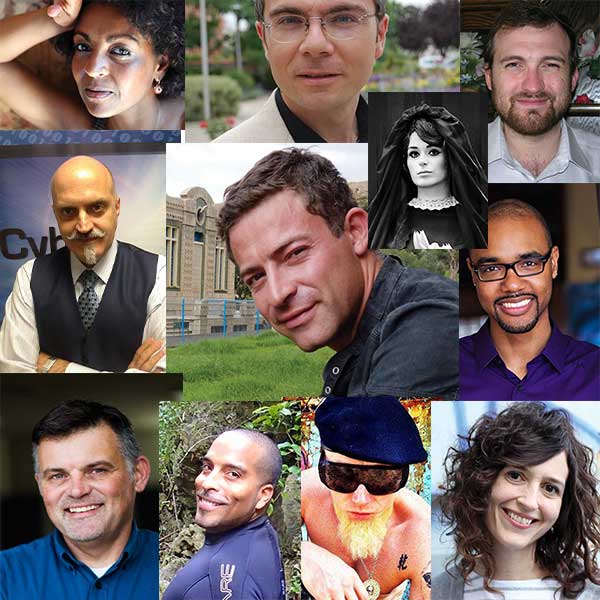 Confirmed speakers are:
Oliver Steeds: The Future of Exploration
Explorer and journalist Oliver Steeds journeys through humankind's "giant leaps" and explains why he believes the next great frontier is the manned exploration of the deep ocean. Steeds has explored or reported in more than 100 countries for ABC, NBC, Discovery Channel, Channel 4  [UK] and Al Jazeera—often in hostile environments. He is featured in Faces of Exploration: Encounters with 50 Extraordinary Pioneers alongside Buzz Aldrin, Sylvia Earle, Bob Ballard, Jane Goodall and Sir Ranulph Fiennes. He is Director of Digital Explorer and Think Blue.
Adjoa Andoh: What Determines Who You Are
Actor Adjoa Andoh [Doctor Who, Invictus] talks movingly about raising a transgender child, and about what really defines who we are or who we might become. Andoh's son sensed from a very young age that although he inhabits the body of a girl, he was born a boy. "In the imperfect language we have to describe people," she says, "we call him transgender. In too many places today,and in too many ways, we suffocate our true potential selves at birth."
Uzimon/Daniel Frith: From Novelty to Enterprise
Bermuda's reggae rebel Daniel Frith charts Uzimon's trajectory from novelty act to a serious music career, and tells how stage skills are the same as those used for success in any workplace. Brooklyn-based actor/musician Frith/Uzimon has been packing US venues since 2010, has shared the stage with Ziggy Marley and Collie Buddz, and has appeared in the TV series Law and Order: Special Victims Unit.
Jerome Pesenti: The Dawn of Cognitive Computing
Artificial Intelligence is about to change our everyday lives. But the man behind IBM's Jeopardy-winning Watson supercomputer says developing software relying on natural language and machine learning requires new ways of gathering and treating data. Jerome Pesenti, who leads development of the Watson platform, walks us through new advances in cognitive computing.
Lauren Bowker: Intelligent Textiles
Textile "alchemist" Lauren Bowker has created an ink that changes colour based on the environment around it. She impregnates her dye into fabric and feathers, then constructs clothing and sculpture that reacts to chemicals in the atmosphere. Now it is possible to wear climate change and pollution on your sleeve! Exposed to carbon emissions or cigarette smoke, Bowker's potions transform through a series of reversible colour changes. Other inks are responsive to light, heat and friction, allowing users to "change clothes" without ever undressing. Bowker's techno-dyes were initially showcased using fashion, but are being adopted by a range of, including a concept airplane interior for Airbus.
Weldon Wade: Diving With a Purpose
Weldon Wade is an avid Bermudian SCUBA diver, conservationist and explorer who spends nearly all his leisure time in the water taking photographs, removing debris, hunting lionfish or introducing friends to the sport. Since learning to SCUBA dive in 2006, Wade found his new hobby had evolved into a lifestyle—and after recognising not many locals dive, in 2011 he formed Bermuda Ocean Explorers. Its mission is to connect people and organisations to promote ocean conservation, education and research.
Jason Healey: Saving Cyberspace

Cyber expert and former White House policy director Jason Healey examines threats looming over the Internet. The immediate task, he warns, must be ensuring the Internet and cyberspace remain at least as free, and as awesome, for future generations as they have been for ours. Healey is Director of the Cyber Statecraft Initiative of the Atlantic Council, focussing on international cooperation, competition and conflict in cyberspace, and the editor of the first history of conflict in cyberspace, A Fierce Domain: Cyber Conflict, 1986.
Elizabeth Stokoe: Conversational Racetrack
Prof. Elizabeth Stokoe takes a run on the "conversational racetrack"—the daily race to understand each other when we speak—and explains how to avoid hurdles that trip us up and cause conflict. Stokoe, Professor of Social Interaction in the Department of Social Sciences, Loughborough University, UK, researches the organisation of everyday life via audio and video recordings of domestic and workplace conversations, including police-suspect interrogations, dating encounters, mediation and neighbour disputes, medical interaction, and friends talking.
Stephan Johnstone : "Progression"; "Bermudian Poet"
Bermudian Stephan Johnstone released three full poetry albums before the age of 30 ("Broken Thoughts," 2006; "The Script Keeper," 2009; and "Librago," 2011). Johnstone, who is also a graphic designer and entrepreneur, has been writing for as long as he can remember, but it wasn't until 2005 when he met James Brookes, owner of Limestone Productions, that he started to perform in Toronto and at Bermuda's Chewstick open mic sessions.
Charles Hoskinson: The Future Will be Decentralised
Tech entrepreneur and mathematician Charles Hoskinson says technology from the world of Bitcoin is about to revolutionise everything from property rights and banking to remote education, private law and crowd-funding for the developing world. Hoskinson has founded two Bitcoin-related start-ups and was founding chairman of the Bitcoin Foundation's education committee. He also established the not-for-profit Cryptocurrency Research Group in 2013.
Carl Lipo : Easter Island: Lessons from One Small Island to Another
Anthropology professor Dr. Carl Lipo says everything we thought about Easter Island's collapsed civilisation is wrong. Instead, he claims, the islanders flourished for 500 years on their isolated, water-parched island—and that Bermuda can take lessons from them in long-term survival and success. Lipo is a professor of anthropology at California State University, Long Beach and is the author of The Statues that Walked. His research has been the topic of a NOVA/NGS documentary and the cover story of National Geographic.
$65 early bird general entry tickets for the main event are available now [until September 15, then $75] at www.ptix.bm. There are also special offers combining main event with dinner and drinks at the wrap. Cover only to the wrap party is $20.
Read More About
Category: All, News, technology