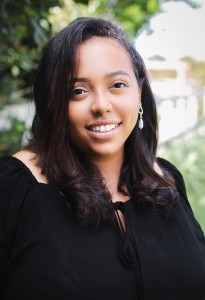 Graphic designer and digital creative Karee Luna will hold a panel discussion on October 27th designed to educate Bermuda's community on NFTs.
A spokesperson said, "Aimed at demystifying the digital, cutting-edge technology, this free event will take place on October 27 at the Bermuda Society of Arts [BSOA] and is sponsored by The Argus Group, TeleBermuda International, and Media Maya.
"The event will be split into two sessions: 'What the NFT? Youth', from 2 pm to 4:30 pm, for high school and Bermuda College students, an outreach programme funded by Argus, and 'What the NFT?', from 5 pm to 7:30 pm, for the wider community.
"Ms. Luna was working on bringing international artists to Bermuda next year for Undadewave, a festival of live events, when she saw an opportunity to educate the community while promoting the series. Her creative agency, Hai Tyde, assists artists and companies in bringing an NFT component to their product and project launches.
Ms. Luna said, "Those who work in or are interested in tech, know NFTs have been in circulation since as early as 2014 but really took off during covid. However, to the larger majority, these digital assets are still a foreign concept. In building Undadewave, it became clear that we couldn't move forward without helping our people understand what it's all about."
"She said guests can expect to gain a greater understanding of the NFT space and connect with local lawyers, curators, artists, and collectors who work with and are intrigued by NFTs and their place within the building of Web3. She also hopes it will open the eyes of young professionals to alternative streams of income," a spokesperson said.
"NFT is a buzzword many have heard but few understand. The blockchain-based tokens of authenticity serve as a record or verification that a digital or real-world item, such as artwork, music, or real estate, is an original or one-of-a-kind, and cannot be copied or reproduced without the owner's knowledge and consent."
David Simons, Managing Director, Argus Centre of Excellence said, "We are excited to sponsor 'What the NFT? Youth' and engage Bermuda's school-age population at a crucial time, as they begin considering their careers. The true impact of NFTs will unfold gradually over the next few years, but with the growing popularity of disruptive technologies, such as blockchain and fintech, we are anticipating changes to the future of financial systems. We want to give our students a head start in this rapidly-changing world, empowering them to experiment, innovate, and build the skills they need to take a leading role in this new marketplace."
Lee Greene, President, said "TBI is pleased to be the technology sponsor for the What The NFT? Panel discussions. Web 3.0 aligns with our goal to connect Bermuda with emerging technology and digital innovation."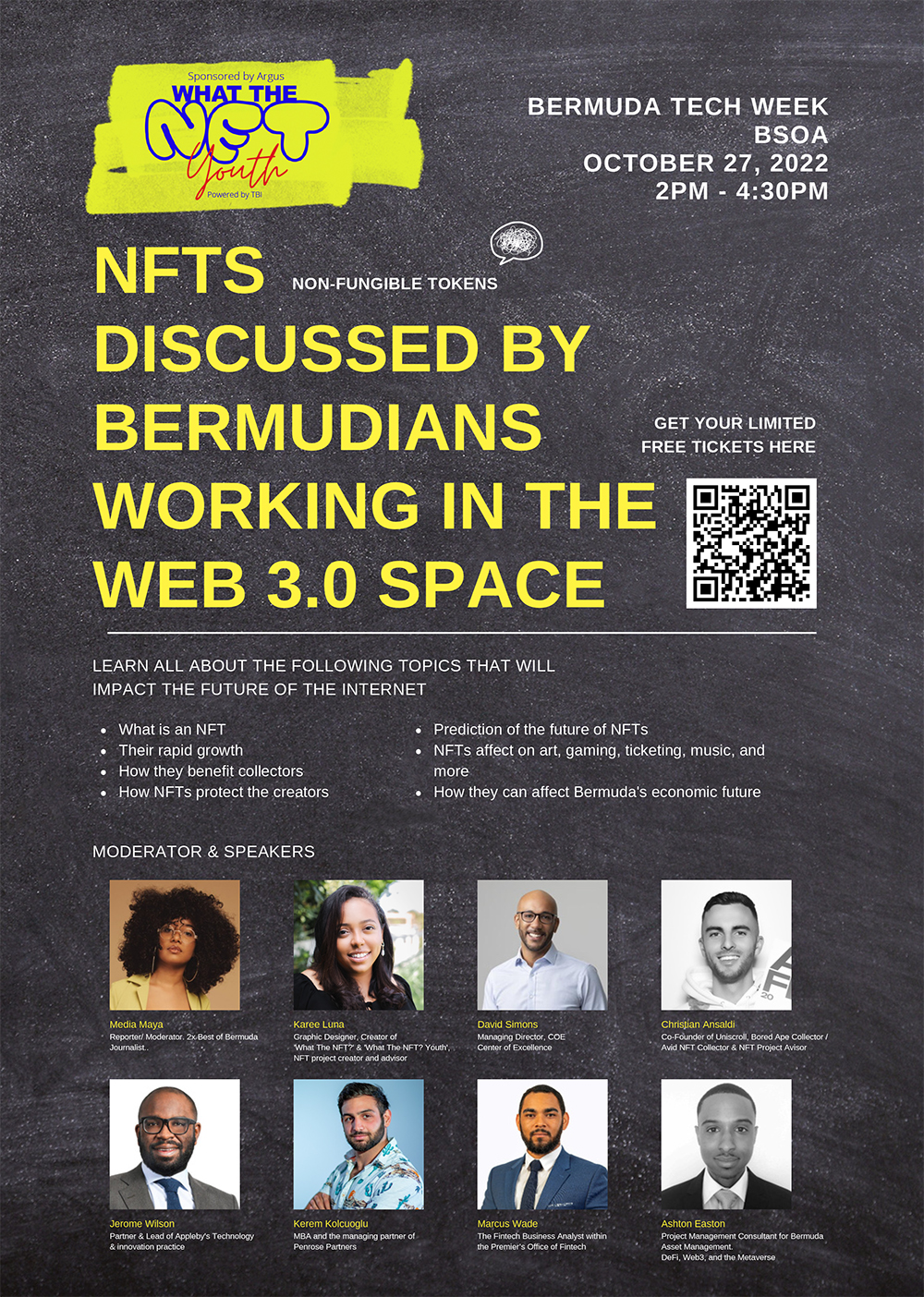 "The panel will discuss what an NFT is, their rapid growth post-Covid-19, how they benefit collectors, protect artists, and how they will revolutionise the way we buy, sell, track, and trade our property while reducing the probability of fraud.
Panellists include:
Karee Luna, founder, Hai Tyde and Undadewave
Sophia Greaves, Director, Conyers, Dill & Pearman
David Simons, Managing Director, Argus Centre of Excellence
Stephanie Smellie, Founder and Web3 Consultant at The 1211 Group
Christian Ansaldi, Co-Founder of Uniscroll, Avid NFT Collector and NFT Project Advisor
Jerome Wilson, Partner & Lead of Appleby's technology & innovation practice
Marcus Wade, Fintech Business Analyst
Kerem Kolcuoglu, Managing Partner, Penrose Partners
Ashton Easton, Project Management Consultant
Maya Palacio, Journalist and owner/founder of Media Maya
Stephen Bond, Chief Development Officer at AllSports
Karim Creary, Associate at Appleby [Bermuda] Limited
"They will also speak on the future of NFTs, how they impact industries such as the international art world, gaming, and ticketing systems, and finally how they can affect Bermuda's economic future.
Ms. Luna added, "Bermuda is rich with talent and promise; my hope is that during this prominent time in the development of Web3, the information shared during the panel will plant a seed in the minds of our community where they feel part of a global conversation and use this newfound knowledge to elevate their passions and realise their purpose."
"To receive their free tickets, students should go to undadewave.com and sign up for the What The NFT? Youth tickets. Those who attend
"Event attendees will receive a free PDF breaking down the main topics as well as step-by-step instructions on how to create a wallet, allowing them to receive a free NFT.
"Students who are unable to attend will be given access to a livestream of the event as well as a free instructional PDF.
"Visit undadewave.com for more information."

Read More About
Category: All, technology