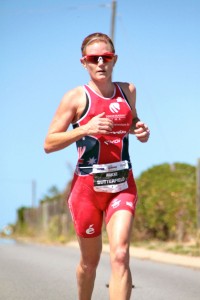 Less than 10 months after the birth of her second child, Nikki Butterfield — the Australian born wife of Bermuda's Tyler Butterfield — marked her return to professional racing with a third place podium finish at the Ironman 70.3 Mandurah Australian Pro Championship.
Butterfield's result came amidst a highly competitive field and served as a gauge for her fitness going forward.
"I'm really happy," said an elated Butterfield after the race. "Anytime you're on a podium it's a great feeling, especially in a field like this. I feel privileged to be in the mix with these girls after being away from the sport for quite awhile."
Butterfield has balanced the joys and challenges of both parenting and professional racing over the past several years, taking time out from the competitive circuit to give birth to daughter Savana Rose [born Dec 22, 2010] and son Walker James [born Jan 21, 2014].
She returned to racing in impressive form five short months after Savana's arrival, posting victories at Ironman 70.3 Syracuse [2011] and the prestigious Abu Dhabi International Triathlon [2012]. Although she considered permanent retirement with Walker's addition to the family, she ultimately chose to attempt an end of season comeback to the professional ranks.
Sunday's [Nov 9] race showed that Butterfield is surely well positioned to perform at her peak in future events.
Butterfield exited the swim with the second pack of women, while powerhouse Anja Beranek led the bike with Annabel Luxford and Caroline Steffen chasing closely behind. Butterfield pushed the pace on the bike, intent on staying in contention.
"I was conscious not to go over my limit, because I'm very aware of where I am fitness-wise," said Butterfield, reflecting on her race. "I'm not yet fit enough to make a mistake and come back from it, so I just focused on racing within my current ability. I felt strong on the bike once I found my rhythm, and then on the run I had to keep my focus to stay within my own race plan."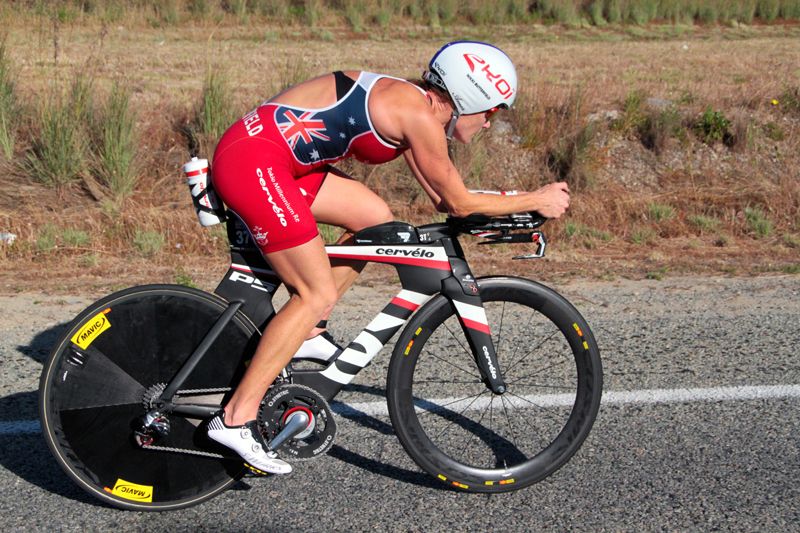 The spokesperson says, "I kept wanting to jump across to Mel, but I told myself, 'Don't be silly, just stay within your own plan and what you're capable of to get your own best result, we're already running fast enough.'"
Her patient confidence proved a wise strategy, as she strongly and steadily moved through the field and eventually passed both Hauschildt, who ultimately DNF'd, and Beranek, who faded after the intense effort on the bike, to finish third in a time of 4:03:49. Butterfield posted the second fastest bike split of the day [2:12:44] as well as the second fastest run [1:24:16], just four seconds behind eventual winner Luxford.
Next up, Butterfield and husband Tyler look forward to a return to the Middle East, where both will toe the line at the highly touted inaugural Challenge Bahrain on December 6th. The family will then extend their stay in Australia through the end of March, as Nikki will turn her focus to the Ironman Asia-Pacific Championship Melbourne before returning to their U.S. home base in Boulder, Colorado for the bulk of the 2015 season.
- Photo credit ©witsup.com
Read More About