[Updated] The America's Cup will arrive in Bermuda tomorrow [Dec. 3] and the Cabinet Office is encouraging residents to come out and celebrate the Island's historical achievement of being chosen to host the America's Cup in 2017.
Earlier today, the America's Cup Event Authority [ACEA] announced that Bermuda was selected to be home of America's Cup in 2017, and tomorrow, several events being hosted by the Premier Michael Dunkley are on tap starting with the arrival of the America's Cup around 2.00 p.m. at the L.F. Wade International Airport.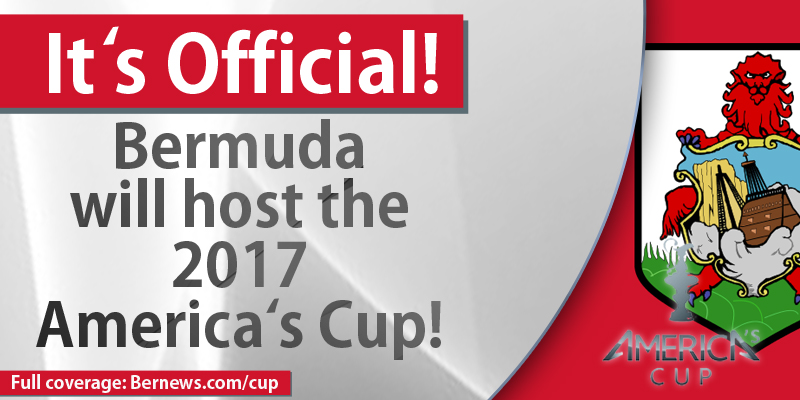 A spokesperson said, "The America's Cup, is considered the oldest trophy in international sport and the Minister of Education and Economic Development, Dr. Grant Gibbons and the Minister of Tourism Development and Transport, Shawn Crockwell will both be on hand tomorrow to welcome Sir Russell Coutts, General Harvey Schiller and members of the Oracle Team who are bringing the Cup to Bermuda.
"The group will be travelling in a Police led motorcade from the airport to the Cabinet Office on Front Street and along the route, the caravan will drive by some of the Island's schools so that students can have an opportunity to view the Cup as it passes by.
"Once at Cabinet Office the Premier will host a special press conference to officially receive the America's Cup, publicly acknowledge Bermuda's win and formally welcome the visiting America's Cup guests.
"And on Wednesday evening, in celebration of Bermuda's win, the public are encouraged to attend a special block party on Front Street. At the Front Street event, will be officially and symbolically presented to the Premier, the Hon. Michael Dunkley to the people of Bermuda.
"Wednesday evening's event will feature the Bermuda Regiment Band, the Gombey's, fire dancer performances, live music by the local band Working Title, a 3-cannon salute and a fireworks display."
Premier Dunkley said today, "Tomorrow is an opportunity for all of Bermuda to come out and celebrate this monumental achievement. This is a time for us to come together in a spirit of unity to bask in our collective success. I hope to see as many people as possible tomorrow night along Front Street, because this truly is a historical moment for Bermuda."
The Front Street activities kick off at 5.30 p.m. and the public is advised that there will be road closures along Front Street starting at 5.30 p.m.
Highlights of tomorrow's America's Cup Celebration schedule are as follows:
2.00 p.m.: L.F. Wade International Airport, Private Jet Area
2.00 p.m. – 3.00 p.m Motorcade of vehicles travel past various schools, including Francis Patton, Whitney and others.
3.00 p.m. Premier to officially receive America's Cup at Cabinet Office
5.30 p.m. – 8.00 p.m. America's Cup Block Party – Front Street, with the Regiment Band, Dignitary Remarks, Fire performances, Gombeys, Working Title Band performance, Canon Salute, Fireworks
Update 1.33pm: As a follow up regarding tomorrow's America's Cup motorcade, the route details are below
From L.F. Wade Intl Airport travel along North Shore Road.
Middle Road once the convoy passes through Flatts.
Middle Road to Montpelier Road.
Montpelier Road onto Frog Lane.
Frog Lane onto Palmetto Road and then left down Dock Hill.
Dock Hill then left onto North Shore Road.
North Shore Road and left onto Berkeley Road.
Berkeley Road and left onto St. John's Road.
St. John's Road and right onto Woodlands Road.
Woodlands Road and left at roundabout onto Serpentine Road and then onto Dundonald St.
Dundonald St. and then right onto Court St.
Along Court St. and then to the Cabinet Grounds.
Schools along the route include:
1. Francis Patton
2. Lyceum Preschool
3. Whitney Institute
4. Elliott Primary
5. Somersfield Academy
6. Prospect Primary
7. Prospect Preschool
8. Cedarbridge Academy
9. Berkeley Institute
10. Northlands
11. Saltus Grammar
12. BHS
13. Mount Saint Agnes
14. Onion Patch Academy [Preschool]
15. Teeter Tots [Preschool]‎

Read More About
Category: All, Entertainment, News