Alchemy Fitness is getting set to offer Bermuda Triple Challenge training, with classes to be held on Tuesdays and Thursdays at 6.30pm, and on Saturdays at 10.00am.
A spokesperson said, "Alchemy Fitness is Bermuda's premier personal training gym. Opened by Rupert Henagulph, an elite trainer with over a decade of experience, Alchemy has developed a winning reputation. Alchemy only hires qualified, experienced trainers.
"Both Becky Wright and Kacper Kulig compete in fitness competitions around the world and have had great success in helping people achieve their fitness goals."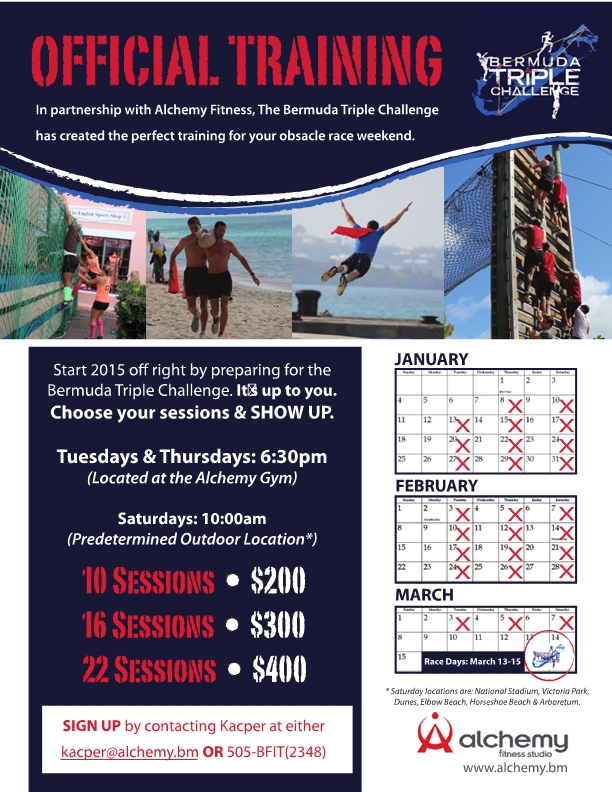 "There are two Alchemy locations in Hamilton; the Group Exercise studio in located in Par-la-Ville Place and the Personal Training studio is in the Maxwell Roberts Building.
"Both locations are fitted with Ever-last flooring and Cybex equipment. Exercise programs are custom designed for each client and involve a mixture of traditional free weight training with Olympic lifting and bodyweight [HIIT] workouts."
The slideshow below contains over 20 photos of Alchemy Fitness training in action

-
"One of the best ways to start the new year is to get fit and healthy, and what better way then preparing for the Bermuda Triple Challenge. The official trainer Kacper Kulig will be holding training sessions three times a week to get everyone ready for any obstacle.
"Tuesday and Thursday classes will be held at the Alchemy Fitness Studio using weights for strengthening, and building a strong foundation. Saturday classes will be held at an outside location such as National Stadium, Victoria park, dunes, Elbow, Horseshoe Bay Beach, and the Arboretum."
Ten sessions costs $200, 16 sessions costs $300, and 22 sessions costs $400. To sign up for the sessions, contact Kacper at kacper@alchemy.bm or call 505-2348.
Click to enlarge photos:

Read More About