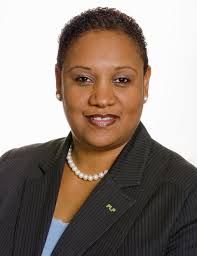 [Opinion column written by Senator Renee Ming]
St George's is more to me than the place I live. It is the place where I grew up. It is the place where my family is from and it is where I am raising my children.
Some have used St George's as a political football while displaying neither love nor commitment to the people who, like me, call St. George's home. I have neither the time nor patience for those who have put themselves forward to represent my area, my family and friends, yet don't seem to care about issues that matter to us.
Today my friends, my neighbours and my family are deeply concerned that the OBA plans to shut down East End Primary, yet the OBA's representatives have disappeared and gone silent.
East End Primary is the oldest primary school in Bermuda. It was the first school that blacks could attend during segregation. East End Primary has shaped and molded countless Bermudians including Dame Jennifer Smith, MP Lovitta Foggo and even the OBA's MP Kenneth Bascome.
Closing the school will bring an end to history that guided the paths of many of our community leaders. The OBA's plan puts them on the wrong side of history and pits them against the very heart and soul of our community.
To say that I am baffled is an understatement that neither former student, MP Kenneth Bascome nor MP Nandi Outerbridge would show their support to the area constituents who elected them into power.
Despite a massive public outcry from the St George's community across the political/racial divide, the pair of OBA representatives haven't seen it important enough to attend any of the publicly held meetings thus far. I have one word to describe their inaction. Shameful!
Where do MPs Bascome and Outerbridge stand? Why won't they speak out in defense of the countless east end residents, crying out for leadership and a strenuous defense against the OBA's scheme to rip the very heart from our community?
In St. George's we know our history. We will remember those who stood with us and those who failed to lift a finger to defend us. We will remember the strength of our allies, the actions of our opponents and those who sat by silently saying and doing nothing.
To the people of St. Georges and the friends of East End Primary School, the time is now, to come together, stand together and fight for what is ours and let everyone know that while the OBA might disrespect everyone else, we will stand against this move and we will fight to preserve our heritage – With or without MPs Bascome and Outerbridge.
- Senator Renee Ming
Read More About