[Opinion column written by Senator Renee Ming]
Crime in any community negatively impacts upon the residents and businesses in the immediate area and the spill-on effect ultimately will impact the island on a whole. In a community as tightly-knit and closely connected as St. George's, any crime has an impact beyond the victim, touching virtually everyone.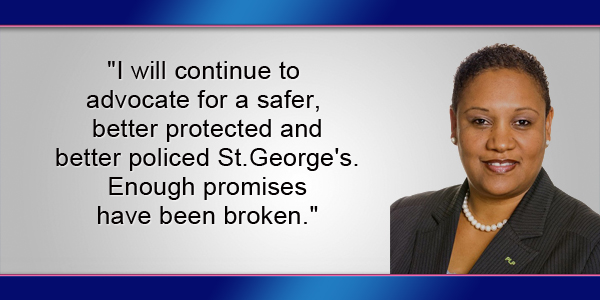 This week's aggravated burglary and violent assault on two men is nothing short of deplorable. Sadly, it is just the latest disturbing chapter of a series of criminal acts in the East End, leaving St. Georgians uneasy and the whole island dismayed and concerned.
The recent robbery at the East End Bus Depot and vandalism to ten public buses is nothing short of deplorable. This act caused confusion to commuters, saw school children, the working public, seniors and visitors inconvenienced greatly and will cost taxpayers dollars that Bermudians can scarcely afford.
Over the years, there have been many promises made to the people of St. George's by the OBA including to:
"Reopen the St. George's police station on a full-time basis, staffed and adequately equipped to manage the safety and community needs of the Town."
"Implement a fully operational CCTV system in the Town."
After three years, these promises have not been kept.
Just last year Minister of National Security Jeff Baron and the OBA again promised additional CCTV throughout the old town, specifically outside of area businesses. This promise, like so many others, still has not been kept.
It is evidenced that cameras have played a role in the reduction of crime as they are a definite deterrent. Cameras can also be vital in detection after a crime has been committed. With the OBA promise of a fully operational police station in the old town seemingly no longer on the table, it is clear that CCTV must become a priority.
It isn't just OBA promises on crime that above been broken and had a negative impact on the quality of life of St. Georgians. The OBA promise of 2000 jobs has been broken, with nearly 2000 Bermudian jobs lost on their watch and continuing to be lost. Also, for yet another year, the only job category experiencing growth is held by non-Bermudians.
OBA promises on immigration have been broken, with the OBA attempting to give status and voting rights to thousands of non-Bermudians and even attempting to give the children of guest workers the right to compete with our Bermudian children for summer employment.
OBA promises on healthcare have been broken with health costs continuing to rise. The OBA's attempts to shut down the Lamb-Foggo Urgent Care Centre had no consideration on the impact on East End residents reliant on their services or on what would happen if the Causeway were to collapse again; a causeway in need of a rebuild that the new multi-million-dollar airport deal will not fund.
Sadly, when it comes to the laundry list of broken promises surrounding St George's the two OBA area MPs have been oddly silent, failing to be a voice for Bermudians and failing to stand strong for the people of St. George's. In fact, every action taken against the best interests of Bermudians that their Party has thought of, they have supported.
Despite this, I will continue to advocate for a safer, better protected and better policed St. George's. Enough promises have been broken. Enough silence on the issues the that matter to this community. Enough is enough.
- Renee Ming

20 Most Recent Opinion Columns

Opinion columns reflect the views of the writer, and not those of Bernews Ltd. To submit an Opinion Column/Letter to the Editor, please email info@bernews.com. Bernews welcomes submissions, and while there are no length restrictions, all columns must be signed by the writer's real name.
-
Read More About