An alliance of talented Bermudians teamed up to secure the position of communications partner to the ACBDA for the 35th America's Cup.
The ACBDA Communications Committee selected the COMM Group from amongst eleven expressions of interest and eight formal responses to the ACBDA's Request For Proposal [RFP] issued in January of this year.
The Group's primary role will to be help keep the public informed and engaged with the various aspects of hosting the event, set to take place in Bermuda in 2017.
Left to Right: Shane Mora, Lamone Woods, JP Rouja, Graham Redford, Antoine Hunt and Peter Backeberg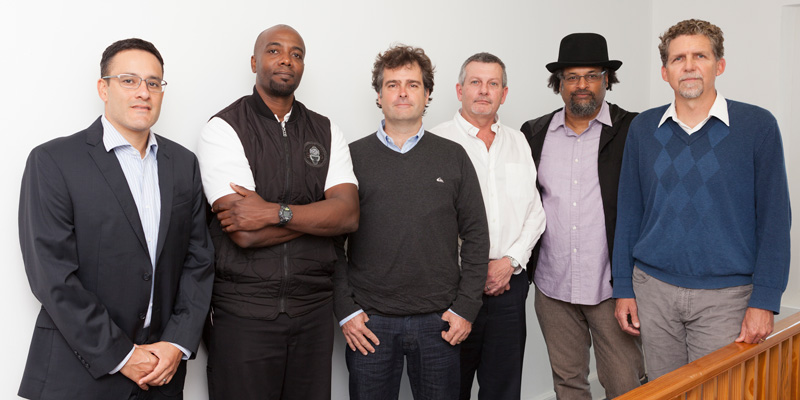 "We were extremely pleased with the level of interest expressed in our RFP and we received a number of formidable proposals. After careful review, the COMM Group was selected based on the diversity of skills and perspectives they bring to the table as a team, their passion for the event and professional experience," commented Peter Durhager, Chairman of the ACBDA.
Mr. Durhager said of the selection process, "The COMM Group's approach to the RFP illustrates how multiple Bermudians can benefit from the America's Cup through spirited collaboration and partnerships.
"Their team is clearly excited about the event and welcome the opportunity to share it with Bermuda. The ACBDA is looking forward to working with them to not only keep the public updated on the impact and opportunities related to the America's Cup, but also to tell the amazing story of Bermuda hosting this world class event."
The COMM Group is an alliance of Bermudian communications professionals who between them offer services in multi-media production, digital media production, social media management, public relations, event management, creative content development, web development and market research. The COMM Group members are: Crimson Multimedia Ltd., LookBermuda Ltd., Shane Mora, Shooter and Scribe Productions Ltd., Total Marketing and Communications Ltd. and Total Research Associates Limited.
"On behalf of the ACBDA, I would like to thank the members of the ACBDA Communications Committee that have volunteered their time to help select a communications partner. Their support is representative of the enthusiasm we have seen from across the community towards the America's Cup."
The members of the ACBDA Communications Committee are:
Somers Cooper, Co-Chair, Managing Director, A.S. Cooper & Sons, Ltd.
Victoria Isley, Co-Chair, Chief Sales & Marketing Officer, BTA
Kendaree Burgess, Executive Director, Bermuda Chamber of Commerce
Michael DeCouto, Chief Marketing Officer, Clarien Bank
Glenn Jones, Director of Public & Stakeholder Relations, BTA
Peter Backeberg, Project Lead for the COMM Group added, "Hosting the America's Cup is a fantastic opportunity for Bermuda. The members of our Group have collaborated on a number of media projects over the years and we knew our bid was stronger as a team than as individual companies. Being able to collaborate and pool resources is going to be one of the most important aspects of making the America's Cup successful for Bermuda."
Read More About